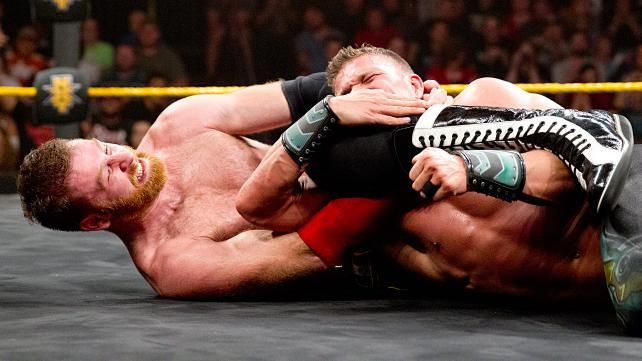 I know a Subreddit we should send Sami to next
Photo Credit: WWE.com
In an industry riddled with difficulties, perhaps the highest sign of a performer's talent is pulling off arguably the hardest character iteration that there can be: a sympathetic but still pissed-off babyface.
It's a hard line to ride as is, let alone once the Stamford Kool-Aid starts pumping in your veins. And yet since Sami Zayn is That Dude, he pulled it off with flying colors on his way to a clean tapout victory of Tyson Kidd in the main event of the latest episode of NXT.
Given that the opening portion was a lot of the Kidd stalling to the point where he drew a "Tyson's Chicken!" chant when the Full Sailors weren't relying on the old standby of Nattie's Husband it put the onus on Sami to non-verbally communicate that this was a grudge match and he did. It was a simple case of addition by omission; he didn't high-five anybody. Ironically enough, it evoked a WWE moment a decade previous where William Regal walked to the ring stating he was going to start beating the crap out of Triple H but only after walking down the ramp and very calmly removing his suit jacket and undoing his cufflinks. Somebody beating you down is bad enough; somebody so in control that they're about to beat you down but only on their own terms and not to soil their well-heeled wardrobe is a lot worse. Sami's faced so many guys in so many different great-to-phenomenal matches over the past 18 months of NXTage that it was surprising to see him while not unhinged, certainly more full of rage than he'd ever been in an NXT ring.
This, of course, played into Kidd's wait wait wait don't wrestle you that opened until finally Zayn had had enough of his hot garbage and then found himself harshly kicked in the face and suplexed into the metal ramp as a result. Then it was time for Kidd to start working over everybody's favorite Syrian-Canadian whether or not the crowd was singing the Chicken Dance
a capella
to further taunt him (they were, it might've been my favorite taunt of all time building and expanding on my old favorite crowd taunt that occurred five minute previously); heck, he even cheated intermittently when he wasn't making Zayn go to a stomp party and basement dropkicking him in a Tree of Woe. While Kidd was able to counter the Blue Thunder at one point with multiple reversals to set up a breathtaking German suplex, likewise Zayn was able to greet his Savage elbow with knees up before pulling it off.
So Zayn continued to survive where Kidd would think he'd be able to put away the match, surviving a Blockbuster and a Sharpshooter after about half a minute to take advantage of Kidd coming in to fire off a Complete Shot/Koji Clutch combo platter in the middle of the ring for the tap out. That's right, Sami kept fighting uphill and took the most of a flash opportunity while Tyson took nearly every shortcut available to him less going for a chair and quit almost the moment things went south for him. You should show and tell, but four for you Glenn Coco if you can just do the former. This wasn't a five-star wrestling match, but it was still perfect, and as usual Regal's noting of the little things were the extra streaks of sriracha on the Cuban sandwich. It feels like the contretemps between Kidd and Zayn are far from over even with the unsullied nature of the victory, so if they want to put another 15 minutes of awesome in eyeballs The Real Winners Are YOU, The Fans!
The rest of the show mostly advanced a lot of plots without doing anything else of note besides that. Jason Jordan couldn't beat Adam Rose in NXT at this point if he was armed and Rose had spent the past two hours before their match stroking the furry wall. That makes him about as competent as Xavier Woods, who spent his last moments prereforming the Nation of Domination losing to CJ Parker in a botched finish that should've but didn't involve cheating. Being out of position a bit is forgivable occasionally but not when one is ostensibly supposed to be using the ropes for leverage in the finish. And what could've been an instant classic in the Jersey Boyz v. the Vaudevillains was marred by the INTERRUPTING DIFFERENT THEME MUSIC trope, even if it did lead to the first actual moment of villainry from the strongmen with Simon rolling up Cass with a fistful of tights.
So the next best moment on the show from an in-ring standpoint was the Assassination of the Fairie Alexa Bliss By The Boss Sasha Banks. While she's well on her way to a main roster spot in the future, Bliss has two moves: a tilt-a-whirl small package and a surprise rollup. Also, there's the fact Muggsy Bogues has about 4" and 25 pounds on her; ergo, once Bliss started off the match with her moves what occurred next was Sasha reminding the audience how she bestowed the moniker Boss on herself with a driver's-seat view of a through non-literal kicking in, both with wrestling and cheating before cutting off a potential rally with an absolutely vicious and awesome Backstabber/Crossface doubling-down. With Summer going against Charlotte it's absolutely mandatory that Banks not get lost in the shuffle of the BFF implosion. This shouldn't be a Miz/Morrison or Michaels/Jannety situation but something closer to the Shield where everybody who goes forward on their solo roll all get their own delineated corner of the spotlight and back up the character work with good-to-great in-ring work; Banks showed she could easily snap into a bully heel archetype given the right diminutive of an opponent and backed up the compliments given out by Regal and others about how good she is when she's on.
It's not like she's Sami Zayn, but then again, besides him who is?