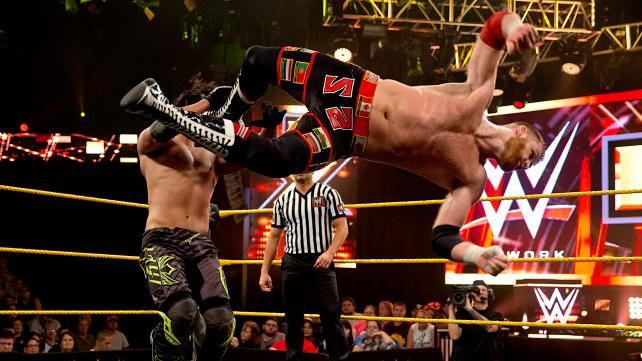 Sami helped kick off the first round of the tag title contender tournament
Photo Credit: WWE.com
One of the most rewarding things a long-time older fan can get out of professional wrestling is continuity. Another thing to put on the old Rob Gordon/Fleming list is seemingly small things paying off down the line into something bigger.
Nobody took much notice of Adam Rose cheering up Sami Zayn in the NXT Takeover
postgame show
after he failed to get the number one contendership from the man threatening on this very show to usher in an Era of Gorgeousness with him as Champion; to be honest, it seemed a fun little throwaway feel-good moment. But that moment spawned a team that's now two matches away from possibly becoming the freshest round of meat for the Ascension to possibly put a button on a year-long Championship reign.
The evening's main event saw, well, they don't really have a name yet. The Red and Black Attack, RoseZayn, Best Rosebuds, call it what you want, but they overcame the suxeN of Tyson Kidd and Justin Gabriel as one of the two quarterfinal matches in the #1 tag team contendership tournament. Rose started them off and seemed to have a grand time having fun at both Gabriel's and Kidd's expenses before they got serious about the task at hand and decided they should welcome him to the ring by kicking, cheapshotting, and stomping the crap out of the party animal well into and out of the final commercial break. Gabriel seemed to be the best he's been in a long time as a smirking pretty boy more than willing to bend the rules and in Full Sail Kidd's drawing more heat than a Vegas August.
Even Rich Brennan on commentary was noting the length of the beatdown and correctly naming off the moves as the suxeN kept the train rolling and tried to run Rose over on the tracks. Unfortunately for them, the moment Adam got daylight to bring in Sami they were on the road to derailment; sequential tope con hilos from both men and a Helluva Kick later they'd punched their ticket to the semifinals by kicking it it in. Skanking time! All the time? We'll have to see if they can beat the winners of Kalisto and Sin Cara vs. whatever Wesley Blake and Buddy Murphy is. As for the main roster exiles' chances of getting the belts, it appears
they are never ever ever getting back together
.
In the other evening's quarterfinal the Jersey Boys (sp) outpaced the recovered Tye Dillinger and Jason Jordan with one of the most innovative finishes in some time with regards to the Stamford umbrella. Still Working On Becoming The World's Greatest Tag Team weren't exactly the heels here, but they sure weren't exactly going to win a popularity against Big Cass and Little E. Most incongruously it was the 7 footer who was taking the brunt of the blows at the hands of JJTD, but his brawns and not his brawn would win the day for his squad. With Jordan set to polish off Enzo in the corner, Cass dove in front of his charging spear to block Enzo from taking the shot, then for good measure booted Jordan down with him holding Amore up and Dillinger drawing the referee by complaining about the Cassady save. It took Enzo a bit to come around and realize he was a "winner", but semifinalists he and Cass are, and they'll await the winner of presumably next week's matchup between the Vaudevillains and MojoBull.
Outside of the tournament, this show may also end up becoming notable for a pair of reasons: the final appearance of a white-hatted Xavier Woods (if that storyline is going where one thinks/fears it's going expect the Wrestling Blog's equivalent of No Vaseline aimed at Stamford as a result) and hopefully the final appearance of Eva Marie wrestling until she learns how to do it.
The latter's pretty quickly explicable: when you're having the reaction HOLY [CONSECUTIVE EXPLETIVES DELETED] YOU SUCK to a wrestler on a
developmental wrestling show
, you are bad and should feel bad and the people who put you in a position where you could be globally seen being bad should feel even worse. Sometimes on rare occasions when a match bores them the NXT Constellation will start The Wave, but their enmity towards Eva was full throated and wholly deserved. It started with a couple of You Can't Wrestle chants (then she proved it), followed by a Worse Than Batista chant (which she'd proved) and when she finally went under not a moment too soon to a belly-to-Bayley it generated a Thank You, Bayley chant.
Secondly, that chant needs to join Bayley's Going To Hug You into the crowd's regular chant rotation because it firstly allowed Bayley to aw shucks and wave off the adoration she received for her borderline mercy killing. It yes anded the crowd's usurping the narrative by fitting it into the easily-understood and universally beloved "Bayley loves everything and especially YOU the fellow fan" that she's been telling. But yes: have Bay Bay beat who she needs to beat on her way to proving herself worthy of getting a shot at Charlotte, and make sure Eva Marie knows how to wrestle before you have her do it on her own. That on its own would be worth six months of giving you guys tenners.
Whatever it is CJ Parker and Xavier Woods had between them is over. It can't be a feud when one guy doesn't win at anything ever in it, as this space has previously noted elsewhere about other one-sided forth-and-forths. Hilariously enough now that he's turned into the Don Cheadle iteration of Cpt. Planet, Parker's earned himself some fans stating that he's the truth. Even coming out as an Angry Babyface sans the dancing and starting off with a bunch of rights and nice chops wasn't enough to save Woods in the long run, nor was his flashy sliding Flatliner, connecting with the Honor Roll, or pulling off the most physically impressive top rope move this side of Adrian Neville with something that can only be called a Coast To Coast with a Superfly splash in lieu of the sitout dropkick to a foreign object to an opponent's head. His frustration was wholly justified; if you can't beat a guy with those sort of moves you ain't winning, period, and shortly after Parker blinded him by pulling him into the middle rope he got laid out with a sort of sidewinder slam/Death Valley Slam hybrid. (Sorry, couldn't resist.) Unlike what would happen shortly thereafter, when confronted with The Wave during a resthold, they turned up the intensity and delivered a backend of the match that more that surpassed expectations; if they'd had a wave going during Bayley/Eva they would've been trying to enhanced interrogate the faux redhead in it.
So let's take note of this all, and continue moving forward with the best North American pro graps show on the tube. You never know from where the little seeds of continuity will grow into something bigger, and it always feels good when it pays off and does.