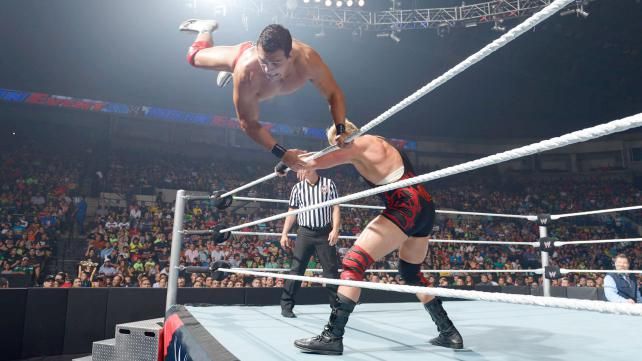 A flying del Rio!
Photo Credit: WWE.com
BREAKING: WWE's not a perfect enterprise.
Please, ladies, gentlemen and bizarre mutant hybrids, try to control your shock over that revelation. But for the myriad of easily lobbable complaints against the current river the company's going down, it's easy to forget the bad old days -- say, not even quite a decade ago when the brand split could seemingly only produce one quality program at a time and brought us such walking Ocular mirrors as Chris Masters, pre-talent, and the returns of Road Warrior Animal and Tatanka, for example. Everybody making hilarious Instachats of JBL's sign in front of Cole's face need to realize that $9.99 is not the latest sign of the apocalypse but merely the latest Poochiesque slogan to come off of Stamford's assembly line.
Left with no worlds to conquer, micromanaging came in. Funny thing about that, though -- it couldn't contain what to the back were unexpected reactions that seemed perfectly logical to anybody who'd reached adulthood. You could almost hear the "WTF?" coming out from Vince McMahon's lips even if he wasn't on camera as logical but non-narrative things happened like John Cena getting booed, Christian getting cheered in Canada, or Rey Mysterio riding a low rider masquerading as Eddie Guerrero's corpse to the World Championship at WrestleMania 23. And since they didn't know what else to call it (rather than nowadays where they try to figure out how to profit off of it from people who both love and hate it, whatever it may be, and get the crowd to sing along to attempts to bolster the family coffers straight from the Cain playbook), what they dubbed it was Bizarro World. Even at the time it felt like a shorthand way of saying "crap, the nerds from the computer have us outnumbered".
Considering it was the first time in the Network Era that such an occurrence had happened and especially on a such-a-tied-for-second-place show as Main Event, you could've forgiven Tom Phillips and Byron Saxton for bringing back the Ruthless Aggression prop and waved it around like a flag. Instead, they just spoke truth to power, and rather than detracted from the goings-on added something to a somnambulant matchup featuring what could only be considered a one-off: the show was in Laredo, TX, roughly a mile from the border, and rather than acting like a heel, Alberto del Rio was a face. He came out with El Tricolor and cut his promo in Spanish, peppering it liberally with shoutouts to the
raza
,
lucha libre
, and even a Foley pop. Out came White Savior Jack Swagger to rebut (lol like Biff the Ubermensch actually talks), and while he was toting the Stars and Bars per his usual while Zeb Colter did his speaking for him, he wasn't the bad guy here, just the one the crowd liked less even if they did We The People along with him and Colter to close the opening segment.
The setup over with, when the show accelerated towards its end del Rio and Swagger closed the show with an above-average two-segger culminating in a del Rio tapout to the Patriot Lock. All of this you might expect, sure. But what about the dueling chants, to say nothing of the clean breaks? Even if he wasn't going to be beloved given the circumstances it was something considering their slaphappy past even earlier this year to see Colter actually giving Swagger constructive advice during his one early bailout to counter Del Rio getting the best of him at the opening. As it progressed, del Rio worked over the taped-up ribs of his fellow World Champion to setup the armwork while Swagger opted to fight with a mixture of holds and righty brawling. The cross-armbreaker was countered out by Swagger, who put on a pair of anklelocks with the second gaining the victory.
Of course, a boisterous crowd fully engaged for a main event (sorry) is usually helped along by a strong undercard, and while there were only two other matches on the program they both advanced the reach of their own little tracts of land.
AJ Lee returned to action after Paige pushed off the stage a SmackDown ago in a winning effort against Summer Rae, and it was more about the post-game with her frenemy than the Black Widow garnering a tapout. The narrative sees AJ with whiplash as a result of the stage shove, which she set off with a nice dropkick during her match before rallying through to garner a win. Lee decided that since she had a title belt in her hand, she would tell the audience a story. Where she drew that bit of inspiration from is anybody's guess. But she told of a little woman who became queen when she got and held onto the belt so long, and overcame a little hiccup along the way to become her own white knight. KNIGHT I JUST GOT THAT. Anyhow, as if queued or been insulted by being treated as a hiccup out came Paige, all faux cheer and plastic smile about the respect and love she had for Lee. Not that that would stop her getting back the belt at Summerslam, natch, but still, it's a frenemy thing and hopefully Ms. Lee would understand. AJ buttoned it and her by saying while she liked her style, she wouldn't like how Lee's story ends, because it's not Paige's world but rather her kingdom. Again, both women were excellent and this is probably going to steal the show on Summerslam assuming they get a decent amount of time to whale on each other.
That may tragically end up a footnote in the greater scheme of things, because Heath Slater is having the Best Week Ever! Hell, what he can do in 24 hours it may take Del Rio the rest of the year to accomplish. Fresh off a pinfall victory over Mr. Money In The Bank on RAW he augmented his previously drought-laden win column by teaming up with Titus O'Neil and hashtag SlaterGator got a win over the Dust Brothers, Star and Gold. It seemed the brohams were well on their way to a victory, but Not Cody playing Enfant Terrible and not getting out of the ring when the ref admonished him after he'd laid out TON allowed the Florida native to cheapshot kick Goldie in the face; three seconds later, Heath had done it again to the amazement of everybody, possibly him included.
And yet, it may've been the least bizarre thing to happen over the course of the hour. It was that kind of show, and we're all the better for it having happened/not having J. King Cole on commentary.