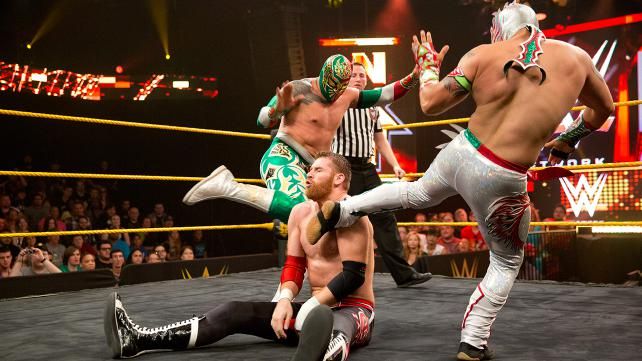 Definitely not pictured: three generic luchadores
Photo Credit: WWE.com
Sans the NXT Champion or the suddenly-MIA Tag Champions, it was the contendership tournament semifinals that bookended and took center stage on NXT. And when the dust cleared, it was a case of the sizzle overwhelming the steak involved.
Let's set the stage: with their respective wins the Vaudevillians will be set to face off against Sin Cara and Kalisto. But while the throwbacks put a surprisingly quick win on the board against the Jersey Boyz more notable for the Legionnaires shaving a husk out of the beard of Enzo Amore after the match (per last week, note they waited for the victory to occur before deciding on revenge on the certified G and bona fide stud), the luchadores had to put in more work to put away the Red Rosebuds in the two-segger that finished off the program.
At some point in the future, Kalisto's going to break free and it's going to be bananas if his timing gets better. Despite a couple of offbeats in the main, he did bring a very Rey-in-'94 vibe to longtime pro graps addicts. One spot in particular highlighted his uniqueness and athletic ability wherein he dove through an attempted Sami Zayn monkey flip, came to a stop, walked forward on his hands before somersaulting backwards into a headscissor, followed by a nip-up into a cover. For once announcerial ineptitude on a WWE broadcast was completely wholly earned, as to say "it was like a video game" would be an insult to programmers who do damn good work but aren't that good yet.
Hilariously, Sami spent the rest of the match when he was in there with Kalisto giving him what can best be described as respectful side-eye. Those sorts of things occur when someone eats the whole wheel and ruins your fridge. As it broke down, Zayn was a second late to save Adam Rose from a Sliced Bimbo Numero Tres and Sin Cara senton bomb (a la English's second rope one that completed That's A Wrap earlier to punch the Quite Manly Men's tickets). It's expected for the finals that the Full Sailors will be into both teams as they were both teams here, and quite honestly they can go either way with that payoff as whoever wins should get more support than the Ascension besides the sporadic calls of YAH!
But while last week was the sort of show that makes one hypothesize that if NXT was a person it'd smell like good credit and your asshole ex snapping their femur, this was one more noticeable for the lacunae than the steady brickwork that's the show's hallmark. Tyson Kidd and Tyler Breeze had potential to have an awesome match, but instead it went two minutes and Breeze bailed out. Triple H showed up to make the announcement that there'd be another Network Special on September 11th (adjusts collar nervously) but also added that there'd be a new GM for NXT that'd show up on the next show. Weird, right?
Hasn't JBL's laissez-faire-to-the-point-of-comical-ineptitude reign worked so far? Mojo Rawley got to run somebody over after that Bull Dempsey went Bull on him last week, but his lack of smiling and threatening that he was going to show
Princeton
Dempsey what being hyped and staying hyped was all about -- let alone that accent
Kanye shrug
-- made him sound, feel, and look like someone more likely to dance around to Q Lazzarus than a babyface to be rallied around. Possibly the evening's best match had Becky Lynch vs. Charlotte again, but not only did the redhead Bow Down again, number one contender Bayley was no where in sight and had apparently no response to Charlotte's uncharacteristic reaction to her last week.
With two shows between now and Takeover II: The Takeoverening (assuming that these semi-frequent forays into live on WWEN don't all fall under the name Takeover a la Clash of the Champions), it's clear that besides offering every single Championship defended that there needs to be one last little bump besides a Lefort/Amore hair v. hair match to take T2 into the realm of unmissable sequels. Whether it be the Vaudies or the Luchas, somebody's about to get their first shot at becoming fresh meat. Let's see if they can avoid the grinder.