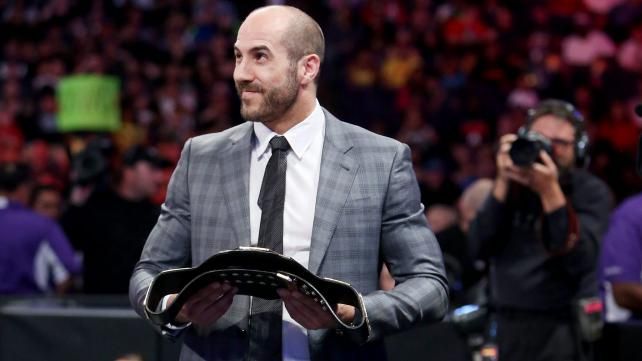 Very...United Statesian? All right, who's been screwing with this thing?
Photo Credit: WWE.com
There are five different types of things in this world. Let's handle them in ascending order of swankitude.
Things you'd never do.
Things you'd do that you'd rather not.
Things you might do.
Things you're fine with doing.
Things you'd do all the time if you could.
Guess where the prospect of Sheamus and Cesaro throwing bombs at each other for the United States Championship ranks? C'mon, you gotta guess. Otherwise, it's no fun.
Everyone who put in their votes for Sector 5 gets a caramel. Cesaro came looking out looking spiffy (see above) and was probably the impetus behind the first part of the show taking two segments. How else would Curtis Axel have a chance against Sheamus, let alone for that long? So while Sheamus g r a d u a l l y got rid of the former Intercontinental Champion culminating in the singing of his signature Brogue, Cesaro took 3rd headset and showed off another thing he happens to be world-class at. Sprinkling in his five languages along with harsh rebukes of guest Michael Cole and Byron Saxton while still providing some insights on what makes Sheamus and to a lesser extent Axel superstars in the WWE firmament. But he admitted to feeling annoyed at Sheamus for whatever nebulous reason, and while he wouldn't get involved in the match per se he would make his intentions known. Just a little snatch of the belt, some admiring, and then a no-look throw up into the ring towards the Celtic Warrior. You know what the United States Championship is known for? Best of seven series. And if that's not true, starting now it should be: watching two of the guys from the Continent and two of the best wrestlers in the world trade holds and bombs is the sort of thing that'll make people give up a small amount of money on a monthly basis for a six-month minimum.
That was where the non-literal meat of the show went; the literal went towards the end and Big Show's hoss disagreement against Erick Rowan. (So that'd probably make the gristle the short work that Nikki Bella made out of Emma, to extend the beefy analogy.) With Mark Henry and Luke Harper in their respective corners, the atmosphere was perpetually tense but as was the case with the opener nothing untoward ended up happening, no Pier 4s in Phoenix. Hold on, this may shock you--Show was in control early and hit some skillet-like chops to his opponent's chest and seemed to be in full control until his opponent chop blocked him. Once that happened, he got stomped a lot. And yes, the end happened when Big Show was upright and saw an opening for the WMD, but in the middle there was some really nice delving into the arsenal on both men, as there may've been the debut of the Show Russian Legsweep and Rowan got off an impressive second rope back elbow and got to slam the big man again. But man, have the disciples been dead in the water after dropping the 2/3 falls title match or what?
You know what that makes them? The Anti-Slaters. Pretty soon everybody's (least?) favorite ginger is going to come out to DJ Khaled, as SlaterGator! put another W on the board defeating the returning full-on Matadores. They deserved to lose since now Hornswoggle is dressed up like a cow. Makes imitating a guy best known for Show punching him back to 1997 in a WrestleMania match look like Bryan Cranston in Breaking Bad, don't it? But that was the old Slater; this is the one who doesn't knock but walks right through the door of opportunity. Sure, he may've started the match getting double teamed, screamed like a girl before he was to suffer a one-man flapjack and after the 1MB got he and O'Neil's hands raised he got double-teamed by two little people in costume and probably humiliated, but the win with the Impaler DDT is the thing that matters the most. And that whole grab the bull by the horns thing? He actually does that. That's a thing that he does. No wonder the man deserves the sweet nectar of victory after desert-ridden years.
But the most important news to come from this show may be the announcement of the main event for Night of Champions, as John Cena has exercised his rematch clause to reface HIS CLIENT BRRRRRRRRRRRRROCK LESSSSNNNNNNNAAAAAARRRR for the WWE World Heavyweight Championship. Maybe Cena will fight him this time OH NO I DID NOT OH YES I IN FACT DID. In all seriousness, though, Cena's willingness to get fed to the human land monster for some of our gratifications made the SummerSlam main the sort of thing that'll get remembered forever for a fan with a long-term memory, so this should be interesting to see when the time comes.
Maybe the first match in the Sheamus/Cesaro best of 7 will have happened by then. hehn?