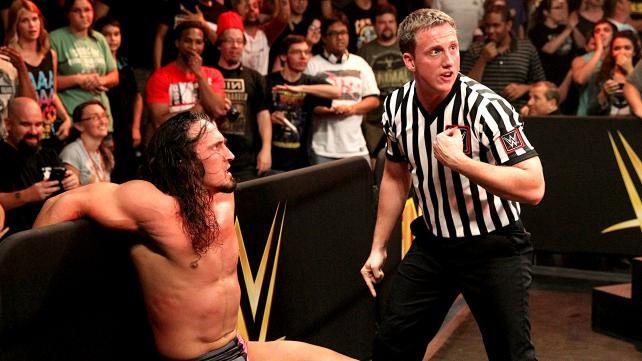 Aberration or trend?
Photo Credit: WWE.com
The third NXT Network Special may've started off with a snazzy sweet new opening where more than a passing resemblance to ECW was evoked with the black-and-yellow attack jump cutting frequently out of the now-standard WWE opening to the point we never saw forever because NXT was taking over now, but it ended the same way the other two did: with the Jumping Geordie hoisting the Big X in the air with fog firing off into the sky he'd just somersaulted through.
This being merely the most recent in a series of cliffhangers, this brought up a bouquet of questions after one had been answered (yes, Neville can successfully defend his title even without a Champion's advantage and three guys against him). And the primary question?
Who -- if anybody -- is giving in to the dark side?
It's Sami Zayn.
Just looking at that answer seems wrong, doesn't it? Sami Zayn and goodness go together like ice cream and warm days, black pens and crossword puzzles. And yet. And yet there he was again, leaning against the bottom rope again, inches away from making the save that could've kept him alive in the main event. Having failed again in his shot for the belt as he did against Bo Dallas. Having failed on a Special as he did at Takeover I. Having failed as he did against Cesaro way back at ArRIVAL, and the best of three falls match last year before that. (And it should be noted his look of defeat while against the bottom rope, whether consciously or not, immediately called to mind the Cesaro loss in February before he got that redemptive hug.)
Watching for the second he could stand as his friend stood on the middle rope, guns up, belt in hand, another successful defense in hand and the strap to prove it as well. Who could take that much bridesmaiding before a libertarian streak emerged as an oak where a seed had only been before? His friend is The Man. His friend wins every closing special match. His friend, with the belt he needs the way an average human being needs air. And every single day that passes he can't live his dream because his friend is living it. It's easy to smile and say the right things, but sometimes your guts don't feel that way. Sometimes it feels like a slow death from 10,000 paper cuts. And one can only bleed so much before they try to stem it, no?
But let's rethink this. Maybe it's not Sami Zayn.
Maybe it's Adrian Neville.
Hey, he doesn't exactly exude a menacing presence, granted. But have you caught the whiff of douche that's been coming with him in interviews lately? Did you see that pre-match bit? He may say there's a difference between cocky and confidence; if there is and he hasn't gone over it, isn't he creeping up against it? Every time he sits down he mentions he hasn't lost a singles match this year. He mentioned he beat all his challengers individually and now his next challenge was just to beat them all at the same time. (The subtitle was not Adrian Neville v. the World -- they went with the more concise and less legally actionable Fatal 4 Way -- but it might as well have been.) It's about trending worldwide as the highlight of a lackluster RAW because of his gargantuanly flashy finisher when a standard issue Shooting Star is clearly under his purview and probably has equal impact but doesn't relegate his friend Sami to the shadows of the wide spotlight that finisher casts.
Long title reigns turn the hearts of the men that hold them; it's as much a part of pro graps' makeup as makeup is for Tyler Breeze. It's about his willingness to mention his adaptability no matter what kind of match he main events in when the seasonal WWE Network showcase comes calling, having equal success under three different types. Hm...who else on WWE TV lately has been vocally advocating for one's adapativeness as of mass importance over all else? Certainly no else getting cheered.
Maybe neither of them are about to don a black hat, and maybe it was just part and parcel of the environment that had to have a fall to finish so DQs were off the table, even though a world-class wrestling match happened for about half an hour with no cheating involved to that point. No, not even an eye poke. But before that, let's talk about the last 90 seconds since it's what's popping up all these alignment bubbles. Not since last winter was Sami so close to the belt. Not only that, he'd turned the previous opportunism of the match on its head and firmly secured momentum behind him by taking it in his hands by laying out everybody.
Tyson Kidd took the Exploder into the corner. Adrian got toped and the result sent him scattering over the barrier. Tyler became the second victim in Full Sail history to take the
suicide DDT
. And with all those ducks in a row, Sami damn near took off Tyson's head with a Helluva Kick and went in to end it. About 2.8 seconds in is when Adrian pulled the referee out of the ring, saving his ass and title reign. Some people booed, but it wasn't overwhelming. Some people chanted This Is Awesome, but that wasn't overwhelming. When he justifiably asked the referee why he was on the floor, the zebra turned into a rat. Zayn went to the floor, and once he landed Neville blasted him by what from Breeze's leg would be a supermodelkick. Breeze's actual legs were barely moving -- remember the suicide DDT? -- so Neville ascended quickly before
firing off the Red Arrow
and finishing another great two hours for NXT.
Of course the main event was awesome. You know this already if you're reading. At its absolute floor it deserves some level of honorable mentioning when the MOTY candidates of 2014 get banded about. The early part featured two separate fights between Neville and Kidd as well as Breeze and Zayn and was disjointed by its very existence while establishing and building off of Takeover The First. Any time logic is obeyed in wrestling, referenced to blatantly or obliquely and is built upon from there deserves hosannas. This then turned into the heels having a brief successful run together and neutralizing the Champion by keeping him out of the ring. About the only thing marring it was the two chinlocks Kidd put on everyone's favorite Syrian-Canadian, even if the ring was clear of opposition both times. Chinlocks in a fatal four way should be like giving a nun a gift card to Victoria's Secret.
Having been denied a showdown earlier you can easily say Act II of the match began when Neville wiped out the heels with a crazy-ass suicide Asai moonsault that stopped a Sami dive from happening and left the crowd chanting and Neville staring at his friend in the ring ready to get it on. Mid-ring, Sami Zayn took off his elbow pads and the crowd reacted like somebody had just gotten slapped. From there, everybody got shine. Everybody got in a few signatures. At any moment it looked like anybody was going to win. When the crowd chanted "this is wrestling!" on multiple occasions it felt as much a statement of what was going on in the ring as what hasn't been so much on Monday and Thursday nights. The action got so crazy Tom Phillips actually said hell, and the end game hadn't even begun yet. Don't be a muggle; watch this match. If you have time, watch it again. You might be able to answer the new $64,000 Question on offer. Granted, it's possible Neville and Zayn are going to remain caught in a rad bromance fiveva and eva. But this is still professional wrestling, about being The Man, and usually the highest rung of Championship belt doesn't lend itself to polyamorous relationships. The current three-way dance between it, the Champion, and the heart and soul of NXT cannot keep sustaining itself; as literature puts it, the center cannot hold. This will almost certainly end up going boom. It's just a matter of who goes against his nature and pulls the pin to get the pin.
Appropriately enough both aspects of the double main event were about plucky underdogs fighting with every bit of spirit they could muster only to get their dreams deferred. About 40 minutes before it happened to Zayn, it happened to Bayley. And you damn straight the Women's Title match was the co-main because this is NXT, the magical Land of Chocolate to Stamford's occasional Sector 7G. In the pre-match segment Bayley talked from the heart, moved to tears about the possibility of realizing her own childhood dream by defeating a great Champion. Seeing the challenger cry probably suddenly filled a few thousand households with dust and/or possible allergies. But the Champion remained unmoved, since she had a legacy to uphold and, clearly high on her own supply, indicated we better learn to love it, like it or not.
And then they got in the ring and kicked out the jams, making the NXT Network Specials 3-3 on high quality women's matches. Even when Charlotte tried to offer an early handshake Bayley went right after her, trying to work herself into position to get the victory and the belt. But in retrospect, this match was mostly Charlotte's party and it's surprising to see how much of Bayley's offense she managed to shut down along the way. Early chops and kneedrops gave way to lengthy figure four headlocks but Bayley kept coming. Knees to the guts early and slaps late didn't deter the challenger, who managed to pull off a sweet top-rope Bayleycanrana but didn't have the wherewithal to get a quick cover in that would've let fruition come to her dream. But when Charlotte countered out of the Belly-to-Bayley it wasn't a good sign; the resultant high-speed schoolgirl into the bottom turnbuckle officially marked blood in the water.
AND YET THOUGH. Bayley kicking out of a successful Charlotte top-rope moonsault should've been the big surprise, but it wasn't. It was Charlotte's look of absolute hatred and enmity being met entirely by one of Bayley's even when she was barely moving and just struggling to maintain balance on her knees. It was the moment when Charlotte realized "holy crap, you're actually a real wrestler" and being met by Bayley's "you either finish me now or
I will
keep coming". Charlotte quickly snatched her up and gave her a dose of Natural Selection (the former Bow Down to the Queen) to deflate the crowd, but saved Bayley from taking any of Sasha's post-match abuse. You'd have to watch the post-game to even get a glimpse of Charlotte hugging and raising Bay's hand, but she didn't exactly do moonsaults granting a wish for a rematch. The respect is now there. Bayley earned that much for putting up a fight filled with disdain in another step of her own evolution, and Charlotte's rapid in-ring prowess elucidates that from any type of fan watching to the point where liking or her or not is almost irrelevant. She's great at what she does, and looks good doing it, and doesn't hesitate to tell you that she knows it, too, whether it's before, during or after the fact. Maury will not need to get involved; that apple got about .34 an inch away from that family's tree.
In fact, the only switch in Championships came right off the bat, as the newly rechristened Lucha Dragons ended the 49-week, 344-day-long reign of the Ascension with the Sliced Bimbo Numero Tres by Kalisto to Viktor in the center of the ring in a sudden flash in what may have been the biggest upset in NXT history. Sure, Baron Corbin being already in the ring for CJ Parker later on only to destroy him in three moves, get his hand raised and leave about four seconds after his name was called to officially mark his reboot was a big upset, but the Ascension went in one evening from the destroyers of worlds to the victims of three different cruiserweights, which, more on that in a smidge. As for the tag match, it went a lot like the other Ascension matches had over their reign, and for those like Tom Phillips with a long memory, evoked memories of Kalisto being on the losing side of a match against the Konor/Viktor tandem back at Takeover mach 1. Sin Cara took the beating so Kalisto could pop in and play what Byron Saxton so accurately called human pinball, moving so fast he was probably wearing out pause buttons on replays as he was doubling down on the offense in his eventually successful attempt to garner his first taste of WWE gold. It looked like it was going to be Fall O'Man O'Clock yet again but Sin Cara saved his mentee from that fate by taking out the big man, and a counter-into-finisher later, we had
nuevos Campeones Parejas del Mundo para NXT
. This tied into the biggest non-match thing to happen, the debut of KENTA in the WWE.
Admittedly, when William Regal and Hulk Hogan (via pre-segment video) are putting over anybody before trotting them out in front of the Full Sailors, it's a bit of preaching to the choir. But the reach is further than the grasp and that work got over this dude from Japan is something special even before he came out glad to realize a dream of his own and even with halting English greeted the crowd in their native language before switching over back-and-forth between the two and almost serving as his own translator. Hey, it works for the Champs, it'll work for this bad-ass kicking machine, yeah? So he's changing his name to Hideo Itami now, but everybody knows and the elephant in the room is just the large pachyderm over by the beanbag chair. Not only that, they cut off any possible backlash at the pass by presenting it as his decision on his rebirth and North American debut rather than "argle bargle corporate argle bargle ruining everything" (and for those who think that reaction is out of place or hyperbolically mocking the lowest common Internet fan denominator, go look back and search engine some combination of the words 'El Generico', 'without mask', 'wtf', 'sami zayn?' and 'ruined' from about mid 2012).
No sooner had he announced that he wanted to be NXT Champion to great applause than the angry ex-Champs stomped down and cleared him from the ring. Regal looked irate as Konor demanded their rematch, but he couldn't even finish the sentence before Hideo was back in the ring and taking off his suit jacket. As anybody who remembers William Regal a decade ago knows, when a man is taking the time to remove his suit jacket before commencing his offensive, you done fucked up and fucked up and fucked up is what you're gonna be. As anybody who remembers certain glory days of the Simpsons knows, when the little Japanese guy is about to do some ass-kicking in a suit you damn sure want to see it. The Ascension failed at both of these, and as such at life. (How they kept the belts for 49 weeks with these lacunae is getting increasingly hard to explain.) Greatly succeeding was the renamed Itami, who immediately gave Viktor a legitimate boot to the face, Roaring Elbowed Konor out of the ring, and high kicked Viktor down to send him scurrying before a split-legged dropkick ran off the darkness for good. To boot, he quickly ambled out of the ring and grabbed a steel chair...only to sit down in it and do
the international hand gestures for bring it on
. Regal kinda-sorta hiding his face and chuckling about this was #3 And Almost The Best; the crowd ohhhhhhhhhhhhhing loudly as if he'd just bitchslapped them both with the same blow was #1 and The Best. You could almost hear all three announcers biting back on the expletives, and rightfully so. His in-ring debut in a few days should literally and figuratively kick out the jams.
Even the undercard stuff clicked here. Again, NXT is magic like friendship. That Bull went Bull in destroying Mojo Rawley, and for that he is now off of the Eddie Princeton joke-name probation. Winning in under 180 seconds would've done it. Finishing with a top-rope headbutt would've as well. A post-match one too for gits and shiggles also would've sufficed. All of them in under five minutes
and
busting the Hype Man open hardway? You, sir, win at more than the match. If they want to do this exactly again as a rematch, well, who besides Rawley would say no? And Enzo got a measure of revenge by pinning Sylvestor Lefort, but it was Marcus Louis who ended up with three small patches of hair and no eyebrows. We've established the cream works, but why the stooge's stooge took the punishment is a bit baffling unless they're continuing on from Enzo pulling the tights for at least part of the pinfall victory. Per usual, the fun of Amore and Cassady is not seeing them in-ring but the almost symbiotic nature they have with the crowd and the genuine laughs Cass can get for some of his one-off lines that aren't incorporated into their now-standard introductions.
It's simple math whether you're putting in microwork looking at Enzo's continued run towatds the big time or macrowork looking at the big time and trying to figure out and/or predict when the ebbs and flows are going to come. But while WWE may be a variable, to the hardcore fan NXT is a constant. Constantly evolving, constantly putting on matches worth watching and rewatching, and constantly adding more quality to an already deep roster and putting in more bang for your ten bucks.
You know, Christmas is on a Thursday this year, and if this Triple H fellow is really into old school and NXT being almost like its own brand...but maybe that's just Red-Arrow-in-the-sky dreaming. NXT'll do that to you, though, and this is just another pole putting up it winning the back-to-back weekly show of the year tent.