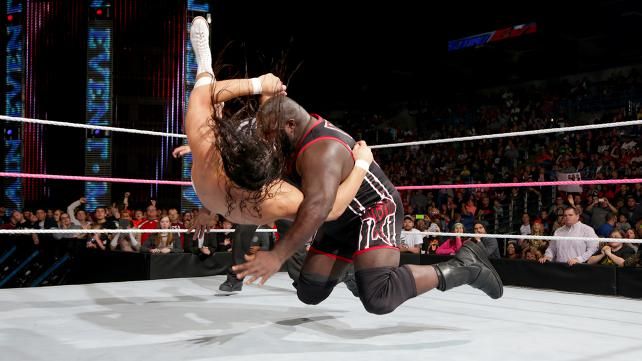 Friendly reminder: don't poke the bear
Photo Credit: WWE.com
We've seen this movie before.
After the consecutive losses to Rusev last week and dropping one to Bo Dallas on Monday night, Mark Henry was on the defensive. And after Main Event's namesake he may be another couple of losses away from telling matriarch fornicators -- namely amongst them the Big Show -- to clear a path towards the Hall of Pain, he's going home.
In the back, he said all the right things to Renee Young. Every trace of black hattery he'd espoused last week was ephemera, replaced by acknowledging how hard the past fortnight had been on him but that today was a new day to applause. Then Bo Dallas came out and grabbed the microphone. Calling Henry a sore loser was appropriate, if not exactly necessary; his idea of him finding a way to channel that anger was subsumed over a wave of passive-aggressive fat jokes and by the time Three Six hit the PA and Henry marched out to the ring in destroy mode you know BD had been invited to Catch A Beatdown.
Henry proceeded to cut off any offense Dallas could've mustered up and smacktalked him the way only the World's Strongest Man can. Beating -> taunt -> beating -> taunt and this went on for a few minutes. The ref tried to stop him in the corner at five and got grazed, so that was it for the possibility of starting a winning streak. Henry then decided to World's Strongest Slam Dallas, and then delivered another one after the crowd prompted for it (though at the point you got the feeling it would've happened chant or no) before informing Dallas that is what he does. If you're an unnamed production assistant, don't get too close to any cases. Full-fledged bad-ass pick-you-up-and-throw-you-into-the-abyss Henry is coming back before we hit the end of 2014, and if you don't know what that entails, you clearly don't listen to theme music.
As for the man Rusev was busy getting W's on before Henry came into the picture, White Savior Jack Swagger: The Shame Of A Nation (his full name) started things off on the evening in a losing effort to his former tag partner and #1 contender to the Intercontinental title, Cesaro. Despite the loud support of the Milwaukeeians (Milwaukites?) in attendance, Swagger got victimized by a thumb to the eye and an European uppercut. No Neutralizer, which he'd managed to avoid, or 45-rotation Giant Swing, Alphamare Waterslide or anything else in the ridiculously wide Swiss arsenal.
He would've been better off going down to the swank basement dropkick or Mushroom Stomp to the ribs he'd fallen victim to earlier. Even tapping out to the modified camel clutch with the top hammerlock or after getting blasted with that enzuigiri. But you don't get to be the Shame Of A Nation without being shameful, right? Also there were a couple of axehandles, one to the floor and one off the top that were pretty nice, too. The point is, Cesaro is awesome and despite a lengthy Patriot Lock, Swagger, like Henry, has lost his since getting his back broken and humbled.
Far from being those things, Brie Bella has been on a roll this week and posted her second consecutive handicap match win. (Even Cole noted Nikki failed in her attempts over the summer and Brie'd pulled this off; hopefully this becomes canon going forward as a focus point of Nikki being the bitter and worser of the twins.) Her beating of Eva Marie and Cameron last Monday night was an achievement the way not tripping is. Honestly, an Eva Marie and Cameron team? The Wrestling Blog could put together two staffers and beat Eva Marie and Cameron. The Wrestling Blog could send A staffer and
they'd
beat Eva Marie and Cameron. Hell, the Oakland Raide--well, let's not get crazy now.
Her beating Summer Rae and Layla with her pinning a former Lisa Frank Memorial titleholder is a sign that she can handle her sister one-on-one if it's allowed to go that way and can only help lessen jokes that Brie Mode is suddenly powered by Hunter Pence. It's a shame for the alignment-averse Slayers that they went down to defeat here, as they got in more tags in the match's brief time than 96% of other Stamford non-Network specials and they even did a decent job of buttressing their built-in advantage by pretty much cutting off the ring on Brie. Yet they still lost.
Speaking of Total Divas, despite getting thrown into the match mere moments beforehand, Tyson Kidd managed to best Kofi Kingston. Three K's? That's not good. For longtime NXT viewers this was undoubtedly merely Burger King to the In-N-Out NXT's been serving up in the continuing Assassination Of Natalya Neidhart's Marriage By The Douche Tyson Kidd flow, but it still served its purpose quickly on a bigger stage. Nattie went to Kane for this match, and after their bickering, managed to get him this spot. (And how weird was it to see
Kane
of all people being the authority figure going 'guess what you've got a match and it's UP NEXT'?
There had to be more than one stunned Main Event watcher who assumed Kane had booked himself into the oppositional role considering how aggravated he was and past history and everything.) Kingston got in some of his trademark offense, most notably the SOS, but was helped out by Nattie's refusal to take a cheapshot on him when Tyson had drawn the referee towards the center of the ring and Kingston was Treed up in Woe in a corner. However, this didn't stop him from getting locked into and tapping out to the Sharpshooter. Kidd celebrated by himself as Nattie eventually tired of his preening and walked to the back.
Coincidentally enough, in a couple of days we'll get to have that animal style 3x3 as Kidd's last chance against Neville for the Big X comes up later this week. But that's the next Best Coast Bias for another time.
Get your popcorn ready.