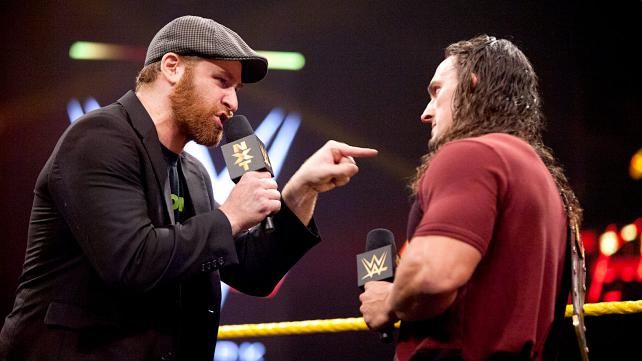 The must-see moment on a surprisingly light show (Photo Credit: WWE.com)
There's a term for those who think that the past can't affect the future: morons.
With the show made up of dueling squashes and sprints, it seemed to be a perfect harmonic convergence that two men whose careers intermingled for the better part of this century both took about three sentences to deliver the real crux of the show. That one of those men would be Sami Zayn after last week's events wasn't a surprise.
The other was: in a debut pre-taped segment promising himself as the future and ending with the flashing upcoming date of the 11th -- not even remotely coincidentally the date of the next developmental Network Special, Revolution -- a large, familiar-looking Canadian promised from his first sentence on WWE programming that he would fight anyone and everyone. Will Full Sail be chanting Fight Owens Fight or Kill Owens Kill?
(Ed. Note - Hopefully it'll be the "fight" variant because any combination of "kill" and "Owen" in a WWE-sanctioned environment just feels
wrong
.)
We've got a couple weeks to get there, but the ex-Steen's being the last man in that was touted in the wave of newcomers coupled with the officially made Zayn/Neville rematch made it even bigger appointment television than it would've been anyways.
As for his former friend turned enemy, Zayn made the loudest statement of his career to date. Literally: after managing to keep a lid on his emotions in front of Neville and even stating if he couldn't win a rematch that he was going to excommunicate himself from Florida, a seemingly innocuous comment from Neville set the specific high flyer off into a brief but memorable yelling tangent. In one moment, he was jarring the mind of every Full Sail fan by screaming; in the next, his voice broke as the frustration of living his life titleless made it more obvious than his string of special Network Special network matches. As usual, Neville played a fine (unwitting?) heel. Did he exaggerate his limp? Was his head-shaking as Zayn fell off an emotional cliff the sign of the concerned friend or further proof of his bravado in assuming he's going to end his 2014 undefeated championship reign by besting the Syrian-Canadian again? Based on the gun Zayn put to his head and the former ROH World Champion's introductory segment, you can forgive a wave of conspiracy theorists from cropping up stating that NXT may be cribbing some pages from a fine and storied past. It's just another sprig in the stew, and to be honest, Owens doesn't even necessarily need to be involved in the main event for the Big X in order to pay this off one way or another. But the additional options on the table it presents were far more scintillating than the show that they happened around.
Tyson Kidd beat CJ Parker in order to challenge that fresh young punk Finn Bálor, but that won't happen until at least the next episode. The Vaudevillains beat up a couple of midgets in lucha masks that weren't even Kalisto's and Sin Cara's replicas. Becky Lynch cheated to beat Bayley in a match that was maybe 2/5ths of the length it could've been to be damn good instead of the vaguely entertaining sprint that ensued. For their reward of being in the last match of the evening, the Mechanics and Enzo Amore and Big Cass got beaten up by the Still Very Angry And Totally Unhumiliated Ascension afterwards. Even the most intriguing part of a flat show was Bull Dempsey's squash going right after Baron Corbin's and Dempsey getting booed for having the mitigated gall to have his match last about a minute instead of the 22 seconds Corbin murked some random chump with before exchanging a glance with the arriving Dempsey as he left. The barely movable force against the slightly resistible object? Also not happening on this show, though the match positioning and slight acknowledgement of other human beings on both their ends means we sure are headed that way.
Anything after last week and before an already loaded Network Special would've probably felt like fluff, anyways. It's a slight shame NXT succumbed to that, but even in a down show the main developments served as perfectly fine appetizers for what should be a delicious main course.
We just have to get there first.