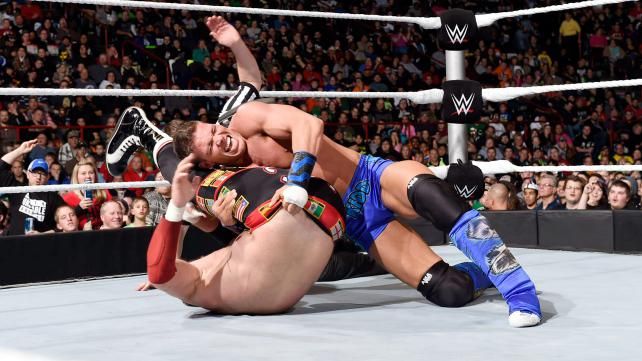 Apparently sometimes this is what victory looks like
Photo Credit: WWE.com
Bray Wyatt borderline flatlining Sin Cara in a showcase to end the show? You could see that cab coming down Broadway with the doors open.
Likewise, Curtis Axel springing from off the side of the milk carton to give Justin Gabriel a running knee to the face in what also served as his return match was pretty pat. The Wrestling Bloggers have won as many WWE singles matches as Cara and Gabriel have in the past 3 months. If you're looking for what gave the first November edition of Main Event its spark, it was simply bringing a bit of Full Sail up to Albany and having the crowd receptive for it.
Tyson Kidd and Sami Zayn renewed their contretemps, with Zayn even getting a video package beforehand. Granted, it was probably the same one from Fatal 4 Way, but still: they brought NXT to a bigger platform by showcasing it on Tuesday night. Between this, a segment backstage between Nattie and Kidd that continued the slow-motion silo implosion of their nuptials, and a two-segger match that was the above-average middle of an otherwise nothing show the Canadians proved given TV time they could run with the ball and matriculate it downfield. Not a surprise to the Thursday night crowd, again, but their seamlessly bringing that two days earlier and putting on another 3.2 of a match only bodes well for their futures, especially Zayn's. Hell, even JBL managed to sound somewhat magnanimous.
Gone were the road to redemption narrative, ignoring the crowd, and hand-throwing from the Zayn arsenal. Of course, as Kidd has found out this summer and fall in a myriad of ways, that didn't mean he wasn't subjected to the crowd chanting Ole! or Nattie's Better while he unsuccessfully tried to dodge armdrag trifectas and pull-back Blue Thunder bombs. But of course, Kidd is more than just a crowd irritating cat aficionado, so Zayn had to find ways of contorting out of hybrid crossfaces/chicken wings when he wasn't getting a kneepad or bottom rope across his throat. While not the crown jewel in their series, it was still the best option on TV Tuesday night, and Kidd's chicanery in victory as seen above gave his opponent a soft landing for the loss with
Layfield
of all people noticing his shoulder was up before the replay confirmed it and Cole noting Kidd had the tights as a break from the array of counter rollups they'd been exchanging in the fifteen seconds beforehand. As a primer to get more eyeballs familiar with Florida's favorite Syrian-Canadian, it went flawlessly; for all the many worried about what the top shelf shows' creative would do with him under their purview this had to be in the sweet spot of more exposure and plenty of time to put on a quality show of pro graps without worrying whether he was going to show up in a vignette with a choir behind him while he sang and danced.
And it was the lone match on offer (adding to the ledger Jey Uso beating Stardust in a sprint with a superkick and a rollup) that had an outcome in doubt and more than five minutes to breathe, thus allowing it to take center stage even if may to an extent have been by default. NXT is like bacon; it really makes everything better.