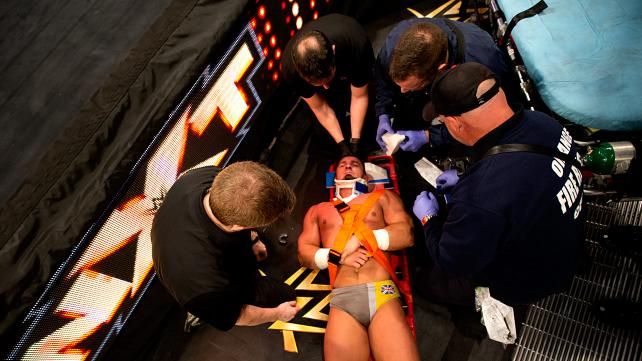 Just another victim
Photo Credit: WWE.com
It was the first show of the Sami Zayn Era, and the standard bearer was notable only by his absence.
In his stead, his once and future friend Adrian Neville rued the fact the new champion wasn't able to come out and bask in the glow of his biggest career achievement to date with the fanbase that loves him most, excoriated Kevin Owens for his evil ways to the point where a crowd was non-ironically chanting "Shame on you" despite the fact it's nearly 2015, then was in a fine main event against the man--and Owens destroyed him anyways.
Two Thursdays, two apron powerbombs, two stretcher jobs. Lest you think this is the same Steen under a different name, Mr. Owens apparently found time on his vacation to dial up the Memphis cowardice. If jumping Sami Zayn wasn't enough for a crowd already disposed to be psyched just to be seeing this man at this industry level after a decade and a half to try and garner jeers, him not doing the thing they advertised him to do would suffice. Three times in the opening five minutes of the match he would be on the floor. If you're agreeable to spot-picking, you could call it fighting selectively. The crowd opted instead for a round of Stall Owens Stall chants. When it was actual back and forth? Well, you know the respective resumes of the men involved: imagine a fine meal where the desert wasn't Baked Alaska but caught on fire anyway and landed in your groin, and that was this match. Neville had several spotlight moments (a sweet leg lariat, avalanche European uppercuts and a ridiculous corkscrew handless Asai moonsault to the floor where he landed on his feet to boot) but Owens, obviously, didn't come to wrestle. The result of their differing prerogatives have left NXT without it's top two white hats, and unless William Regal can dust off the royal robe and the modified Imperial March
please let this happen please based Santa we've been EVER so good this year
then Owens is quickly turning Full Sail into his own personal playground and a wasteland where he drives the property rates down in order to help his vicious quest to become supreme overlord.
That was the meatiest part of the last pre-Christmas NXT show of 2014. Enzo stepped up his efforts to impress Carmella by blind-tagging in against the Ascension: about 10 seconds later, he was pinned. Bull Dempsey beat Some Dude, so Baron Corbin came out immediately afterwards and beat Some Other Dude even quicker. Lest you think that was the end of metaphorical days, Bull shoved Baron and ran away chuckling, so this feud must officially begin. Becky Lynch and Bayley had a fun little sprint but it was overshadowed by Lynch putting away the injured Bayley with something that looked exactly like Lucky XIII and new announcer Corey Graves apparently so taken aback at the near-immediate co-opting of what used to be his finisher that it turned him into a short-term deaf-mute. It would be as if Kareem Abdul-Jabbar was on commentary and some center threw a sky hook and the NBA's leading all-time scorer responded by ____________________________.
Of course, NXT is especially hamstrung by the fact the next couple of Thursdays are major holidays, so they can be forgiven for doing nothing but advancing the plot here. That said, in the time it takes you to watch this show twice you could rewatch Takeover: Revolution once.
Now that sounds like the kind of gift that keeps on giving.