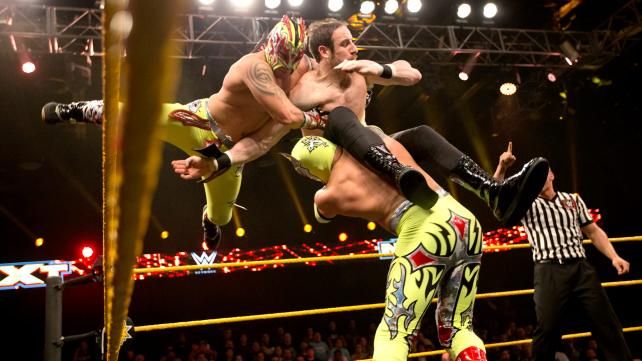 Curtains
Photo Credit: WWE.com
This was the funeral of NXT on Thursday nights, but they went out the way they came in: not wasting a single segment and earning the title the Fastest Hour In Sports Entertainment.
It all culminated in another Revolution rematch, with the Lucha Dragons and the Vaudevillains both putting on their best match ever on the way to the champions (possibly surprisingly) retaining and holding their titles up high to put a bow on Full Sail Thursday nights. Despite the knot of crowd support for the throwbacks, the luchadores also received more than their fair share of love, leading to an interesting dynamic where the crowd seemingly just wanted the match and any possible ending that would've come out of it would work out fine by them.
So while the early part fell in the corner of the champions and you didn't get anything fancier than a doble tope, the latter half might very well have gone to the challengers on points due to their mastery of halving the ring and new forms of offense, most notably a leg-clutched Saito suplex at the hands of Gotch and a double chickenwing into a rollup by English that both garnered near-falls. They even did the little things right, like Aiden positioning his body between the Younger referee and his tights-pulling leverage takedown of Kalisto or Simon holding onto Aiden's legs after getting knocked to the floor to counter the lighter man's attempted multiple jump armdrag he's used to great effect in several defenses. Given that, not even Sin Cara's super victory roll wasn't going to be enough to stand the refurbished challenge, and Los Dragones were more than up to knocking that down with an absolutely insane one-armed powerbomb/springboard Slingblade combo platter that got them the W. If Hattori Hanzo had encountered that move, H² would've been cut; for guys known for their breathtaking offense that might've been their entirely of their top five when their online thirty seconds of fame happens. As it does in the other instances of Revolution-era rehashes it leaves the failed challengers in a bit of a bind and the current champions looking for new horizons to conquer, but man, quality is the deodorant to a lot of glandular malfunctions, and it served that very same purpose here.
Speaking of Revolution rematches, how'd you like to see the rubber match between the last two NXT Champions, Sami Zayn of course you would they had an awesome first chapter and their second match was one of the best matches in WWE's 2014 why don't we ask people if they'd like free puppies or an ATM to explode in their vicinity. That'll happen as the main event of the first Wednesday show, and we got there drama-free in the sort of opening segment that could make agnostics believe.
Kevin Owens could and did delay this moment, but for the time being that was all he did; they fired up Worlds Apart and Sami Zayn got a war hero's welcome. It was a standing O and Oles for everybody (even you), so the new champ hilariously said "Forget whatever I was going to do" by tossing the mic up in the air since about half a minute had gone by without him being able to get a word out and going out in the crowd and doing a victory lap to vociferous
Sami chants. Before he'd even gotten off so much as a second sentence he'd gotten the second You Deserve It chant in WWE annals. He talked in a way that couldn't help but remind longtime viewers of a similar promo when Eddy Guerrero captured the title about the belt belonging to the people and not to him after talking about how proud he was that he was able to do it while staying true to himself. Hell, the man was quoting Barry Manilow in his championship victory promo, going hoarse for a bit while doing it, and still so popular he could've punched a baby in the face afterwards and the baby would've been brought up on terrorist charges. The crowd was enthused to find out they were the band in Sami Zayn and the Zayniacs (Zaniacs? spelling tbd) and reacted with the three letters you might expect, only for The Champ to yell over them how much he loved that song.
KO's betrayal was nearly glossed over, but Zayn was more focused on making sure he held steadfast to Babyface Champion Edict #1: Anytime, Anyplace, Anybody. So this brought out the former champion, and while chastened, he still put over their Revolution match and Zayn becoming a champion in word and action alike. The handshake that ensued, especially given the state of things between them the week before that second go-round, was a subtly earned treasure that's a minor encapsulation of how much fun this whole thing's been to watch. Almost no sooner had Zayn brought up Adrian Neville being owed a rematch than the Blackpool Death March and his Lordship the General Manager out, and Regal got chants from the crowd as well. Regal immediately brought the focus back to the men in the ring, and put the official stamp on the rerematch. The only questions at this point are if Owens muddies these waters when it occurs and if Zayn/Neville III is the best chapter of an budding epic; at this point let us remember the mellifluous nature of Zayn's fourth shot at Cesaro that kicked off NXT's Arrival and two-hour live special era. If that wasn't WWE's 2014 MOTY of the year it should've been in the conversation, and that's the bar being looked at given the history and talent of the men involved here. That match will go alongside Bálor/Tyson Kidd and the first official throwdown between the slightly movable object of Bull Dempsey against the barely resistible force of Baron Corbin for the Wednesday premiere.
As for the Curtis Axel Rejuvenation Machine? Well, it's going to need a bit more tweaking and work since Hideo Itami almost literally kicked the crap out of it in the evening's first match. It's interesting watching them develop he and Finn both as a unit and as separate entities. You, the discerning BCB Fan Club Member, have seen the former in action as they've essentially demoted the Ascension to Monday nights. The latter will be on display next week when the artist formerly known as Prince takes on TK, and here where Hideo might've put on the best singles match in his short Florida stay so far. Axel didn't need to do much other than hit his marks and provide some antagonism, but the crowd was invested from front to back as Itami overcame the $100,000 kneelift and avoided the Imperfectplex on his way to hitting his still-unnamed basement hurricane kick for the victory. Even better, at the desk Rich let a little joshing banter go on between Jason Alberts and Corey Graves before asking them to focus in on the match. (Lest you think that was some sort of anomaly, a similar beat occurred in the title main event. Again, Everyone Responsible For NXT Is A Genius And I Will Die Protecting Their Vision.)
Most interestingly after Sasha Banks choked out Alexa Bliss again -- nothing horrible, but nothing anybody who didn't just jump on the NXT bandwagon hasn't seen a handful of times already -- Tyler Breeze came back from vacationing for a new seasonal residence to take on Chad Gable. Before the match some notes merely had him listed as Victim or Baby Angle, but he was more of a Cena debut here as he clearly outwrestled T-Breezie with counters into front chancery and rereversals that justified his vaguely patriotic singlet and even put on a rope-and-assisted Code Red before falling victim to that which most TB victims fall victim to (and WWE superstars do as well), [Insert The Name Of The Finishing Move Here] OUTTA NOWHERE (™ World Wrestling Entertainment). But having worked some of NXT's house shows, he got a lot of love from the crowd and then justified it by looking good against one of NXT's unsung ring talents. This may just be an odd footnote for the rebuilding of Breeze, or this could be the launching point for CG. Again, the fact he had to be noted and named after overcoming a wave of apathy for the normal home viewer suggests a bright future.
That future'll be on Wednesdays, but still--NXT is NXT. And awesome is awesome no matter how you opt to spell it.