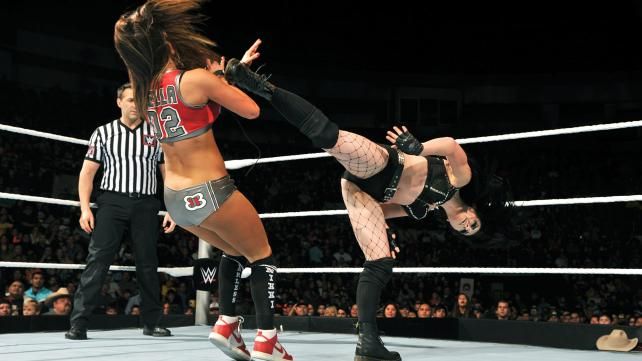 Reminder: every secondary WWE title comes with potassium benzoate
Photo Credit: WWE.com
Women getting to wrestle for 15 minutes. Announcers focused on their skills while they do it. A little bit of out-of-the-ring shenanigans to advance the story, but still with a clean finish to put a cherry on the sundae.
It's amazing what WWE programming can be -- when it's not on Monday nights.
Make no mistake, the reason minor miracles are allowed to occur and even flourish on Tuesday nights is because of a lack of overproducing due to its borderline worthlessness in the big scheme of things. It exists merely to give a bit of spotlight and time to things that somehow usually don't get it, which is why the viewer is all the better off for its existence even when it isn't appointment television. There are obvious downsides to this approach. Sometimes WWEME is Fandang2.0 more or less laying waste to R-Truth while Michael Cole and JBL wonder if he remembers which town he's in. Even better, sometimes it's Titus O'Neil pulling off a clean victory over Jack Swagger, White Savior: Shame Of A Nation to close out the program.
But Main Event is best when it gives long matches to capable people out of nowhere, the pro graps equivalent of finding a tenner in your jeans. So it was slightly unexpected but completely welcome for their new year to start with Paige wrestling Nikki Bella and more importantly given a big chunk of time to develop something going out of your way to watch and be compelled by. Nattie and Brie were at ringside, and outside of a little physicality towards the end of the match to set up some red herring dueling nearfalls were merely there as cornerwomen and support while the once and future Cena paramour and the Anti-Diva (in the latter's case, literally) kicked off the show and the jams. Everybody knows Paige is good, but watching Nikki in this match that she largely controlled must've been a coming-out party to those who still carry the 2011 iterations of her and her twin's in-ring work in their heads as the thin slice when the word Bella comes up in WWE context.
Most compelling was Nikki finding a myriad of ways to work over the arm. She did the subtle old school standards like the kneedrops to it on a grounded opponent, sure, but also did some innovative things to spice up the same old stew with regards to body part work. A Stun Gun, and some innovative between-the-ropes pulls on different heights and different sides of the ring not to mention a well-timed swing into the post added to the drama when she tried to order the Code Red in the middle of the ring with the cross-armbreaker. Again, not exactly a Nikki staple, but after slamming Paige from the apron to the floor to kick off the second segment of the match (that's right, two segs but they got a few on) it was clearly in trouble and thus open to getting beaten up with some good heeling. Yet Paige managed to lock her arms together to negate the hold despite Nikki working and reworking and nearly getting her to break her wristlock on herself for the better part of a minute; once she survived that, she was set to survive anything, especially with Nattie swatting Brie down like a fly once she got pesky and tried to derail the NXT alumna's comeback. Paige got in her brutal superkick (the same thing that'd dropped Brie like so much 3rd period French in the post-match RAW shenanigans), and then drilled her with a Rampaige to put a bow on WWE's best match of 2015*!
Most comforting for those looking to opt in for the Tuesday-Thursday lineup that'll be finalized by the end of the month while holding Mondays at a distance best described as "miles away from my eyes lest they bleed", Cole, JBL and Booker T were free in giving compliments to both women while they focused on the match. There
is
that Rockian school that says you shouldn't give people credit for doing what they're supposed to do, but if you're going to harangue when things are toxic then you should probably let fly with the props when the going gets good, hehn? Mazel tov especially to Booker for his credit in the direction of Nikki's focused offense, Cole for divvying up the compliments both for that as well as Paige's gutsiness to stay in the fight against such an onslaught, and JBL for staying mostly quiet and sticking to the occasional supportive exclamation off of a comment from one of his colleagues. This sort of magical parallel universe is probably unsustainable on a Tuesday-to-Tuesday basis, so we might as well stack as many plates as we can while the all-the-awesome-you-can-eat buffet's open.
And even ending with a "champion loses the non-title match" trope all too familiar to drinkers of Stamford's Kool-Aid, there was more than enough goodness between the enchanting raven-haired lady and the reigning holder of the Lisa Frank Memorial Championship to fill any wrestling fan's belly. Amazing what all you can get when it's not about gender and more about full stop quality, huh?
* = to date