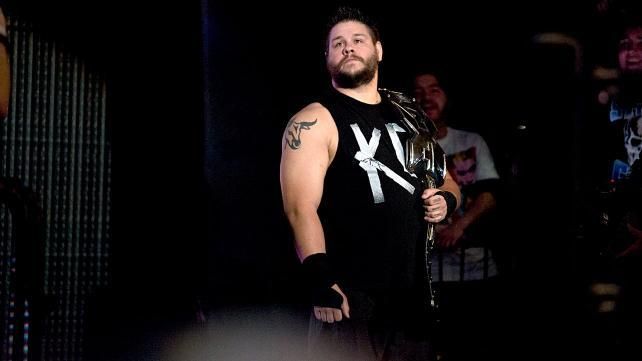 404 Error: rat's ass given not found
Photo Credit: WWE.com
Alex Riley may never be the darling that Sami Zayn and to a slightly lesser extent Adrian Neville are when it comes to an NXT crowd, but they're the ones who got the free rides to the hospital after getting apron powerbombed by Kevin Owens and he didn't, so call it a wash.
He was a Finn Bálor save away from joining the list, however. Come next week, it's scheduled to be the #1 contender and warpaint aficionado going in against the French Canadian Murder Bear (hopefully they taped this in Ohio as well, with Owens on the shelf for the next intermittent little bit due to knee surgery); this week the main question to be answered was something along the lines of wondering if Owens would make good on his threat to end Alex's in-ring career the same way he ended his announcing stint by goading him into this match. Despite pre-match warnings from Bálor of what the champion was capable of, like Sami Zayn before him he was blinded by his all-encompassing RAGE, thus like Sami Zayn before him playing right into the paws of the titleholder.
Even before the match they were trading some small cheap shots back and forth as Drake seemed borderline ineffectual and for the first time in a long time (so far as Stamford's Kool-Aid goes) a referee was separating both of the competitors pre-match to try and get them under enough control to get the bout underway. Alex Riley is and was a lot of things, but as KO himself said pre-match, on Owens' level at this point (maybe ever) isn't one of them; outside of one nearfall off of a low-level spinebuster Owens let his malice and swagger carry the evening. It wasn't like the Ohioians in attendance were necessarily against this occurring, either: Owens drew a multitude of his normal Full Sail chants, in addition to a few Owens Is Gonna Kill You and Mr. Wrestling chants. Granted, they also threw in a snarky Rest Owens Rest chant during his lengthy chinhold on the former Miz lackey, but this just went to further underscore doing this storyline for this crowd.
It's hard to say if this was exacerbated by being in Columbus and the first out-of-Florida show for Triple H's baby (earlier big heel pops were given for Tyler Breeze and Sasha Banks ((more on which later)) but they usually get similar split and loudly beloved response down in Full Sail) but as Owens fired off a bevy of sentons before using the steel barrier as an unwitting tag partner for offense before laying A-Ry out with the pop-up bomb Owens had this crowd dancing on his strings, and they seemed all the more willing to move for his rhythms and not the small starbursts Riley got to orchestrate.
Post-match it seemed like Owens was going to add a third name to his list, but was cut off by his challenger next week diving from the elevated entranceway down to the floor. There was no pretense and no safe assumptions after that occurred; once they got withing punching range of each other that's all they did until Bálor got the upper hand by throwing Owens into the steps. Back in-ring, he got off the shotgun dropkick and seemed to be set to execute a Coup before Owens got a case of the limbertail (and in the cases of the most immature of us, caused chortles by getting in a
final stomp
on the still-fallen Riley on his way out). Yet again, Bálor stood in the ring waiting on the champion. At least this time his wait will be shorter, and NXTaholics can cross another dream match over into the Watched pile.
(Side note: in their NXT Goes Shippin' Up To Cleveland video package that took up a bit more air in the episode's room than was wholly necessary but was completely understandable, it appears they filmed a Cesaro/Bálor match. UM.
NOW
. GIMME IT.)
Other than the fact it was aired that H³ admitted that the raucous response was another signifier that this wasn't just your daddy's developmental league but rather seemed to have the components to stand on its own as its own brand was hometown girl Alexa Bliss coming back to where she'd danced at her senior prom and doing just enough to beat Sasha Banks by countout to earn a full-fledged title shot at next week's already loaded show. This has been brewing since last summer when Banks broke Bliss' nose; yet again even with the relatively short running time given an NXT babyface found a way to show off anger and increased brio without crossing the line into full-fledged main roster jerk-that-the-audience-has-been-conditioned-to-buy-two-new-shirts-a-year-for territory.
Even though the crowd was somewhat happy to see the Boss, when it came time for hostilities to resume they mostly had the hometown girl's back. The Ohioian managed to survive a lengthy time period in Banks' trademark straightjacket -- even further exacerbated by maintaining it and stretching her over her knee for a clip -- then took the flight to her on the floor with an Austinesque Thesz press and punching combo when she tried to bail out before pushing her into the ringpost and garnering the rarest of NXT birds: a countout victory. As an apéritif for the bigger drink to come with the impending title match, this was perfectly cromulent and Bliss keeps looking better in every single match that she's been in while the Boss is probably the axle that keeps the division turning as we move on into 2015. Them getting a semi-main to show off more a range of their skillsets may be happening quickly, but it isn't undeserved and should hold a lot of fans' eyeballs in a few days for the title rematch.
Tyler Breeze started off the evening continuing to show his relevancy with a victory over a suddenly single Kalisto (you know how), and Wesley Blake got a lucky (?) rollup victory over Big Cass after he bumped into Carmella on the apron and she hurt her leg
unless of course she didn't and it's part of her long con against these mooks that cost her her job and life's original calling.
But those weren't the biggest takeaways of the evening: it was watching not quite Full Sail but with an audience more than willing to not only ape the usual suspects but be rabid for every match in the evening's card and add in their own two cents that showed they were slicker than your RAW average (in addition to the Rest Owens Rest one they added on a This Guy's Sawft chant that certainly has the possibility to catch on see the aforementioned pops for Sash, T Breezie, and KO along with an especially loud singing along with the Newer Age Outlaws in the form of Cass and Enzo). Even the lizard brains got an introduction to Dana Brooke and a name-dropping for Paige Hathaway. Mr. Stephanie may have said as much and gotten resoundingly cheered for it when he did so 13 months ago, but by going hours away from homebase and selling out a crowd that was already fluent in the language of Full Sail with the prospect of this being the first overture in a much longer opera to hopefully be sung for years to come, the next generation of NXT has arrived.