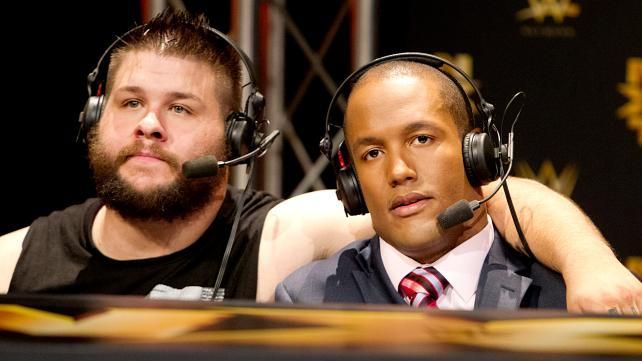 All in on the WWE Network Scrubs reboot
Photo Credit: WWE.com
For a very uncharacteristic hour, NXT was the worst of all 21st century content sins - skippable. Every single match, from the debut of Zach Ryder and Mojo Rawley as a tag team to the closing debut of Samoa Joe, was about as predictable as the Runner/Coyote mismatches that still drew big numbers in the Southwestern territory some fifty years prior.
But just when Kevin Owens thought his top-shelf sarcasm had made a tunnel for him to duck the Samoan Submission Specialist yet again, an impeccably attired freight train in the form of William Regal came out and flattened him. Bringing some of his own comments wrapped in barbed wire smirking, he allowed for the fact that one victory over Scott Dawson did not a title shot earn... but it didn't mean that he hadn't earned the right to fight Owens.
Next week.
That announcement didn't exactly save the hour -- not being superlative and not being watchable is an ocean deep enough and easy enough to drown in -- but it was about the only thing one
had
to see from this show, and the whole thing might've taken 120 seconds. Granted, in a busy world you hashtag millennials might appreciate the lack of drag on your time. And it was best served to announce that clash at the end after spending several beats on the show promoting the debut of Joe. (Side note: still feels weird typing WWE and/or NXT-related things and then Samoa Joe with him as their employee. Next thing you'll be telling us LeBron James can win a ring with a scrappy Australian, cast-off Knicks and players gunning to put NBA rings next to their ABA rings against the best team in the league!)
So let's rotate through this quickly from the stern to the stem:
Dawson did yeomen's work in his
fait accompli
, but if they're serious about bolstering the tag division (and the recent re-emergence of the Vaudies as well as Chad Gable continuing to try to Foley Jason Jordan's Austin seems to lend that line of thinking credence) then the Mechanics have a role to play that offers them better riches than wandering the solo (Dash) wilderness as separate entities. Hell, it's even in the name!
It turns out that all you have to do to turn Baron Corbin heel is have him wrestle for more than 30 seconds! Thank you, thank you. Tip the veal, try the waitress. In all seriousness, he goes into the "...all right, it's past time to advance the plot" bin that NXT's started to have to build and even more disturbingly has started to fill these past few months. And Angelo Dawkins, having shed himself of
College Dropout-
era Kanye attire, could do worse than join Clark and maybe Jordan over in Shoot Nation.
Becky Lynch getting spotlighted is fine. Jessie McKay looking good on offense in her debut when she got the chance is fine. Lynch busting out a modified Atlantida to set up her disgoostin' armbar is better than fine. You know what's not fine? Sasha Banks winning a MOTYC and then turning into a milk carton's sidebar in the weeks since. Becky didn't even get a speech about giving it another shot, though she did get a short pre-match video package about Full Sail taking her in after Unstoppable. If the match was that height (of course it was), the Steampunk Machine (™ Best Coast Bias 2015) saying she was thisclose to closing the deal and can do it if given another chance would seem to be simpler than Jack or a Les Grossman shuffle, wouldn't it? More Banks in service of a rematch seems to be even simpler than that. And yet, here we sit Bossless.
The Breeze/
Eddie Princeton
Bull Dempsey match went on several times longer than it needed to and again suffered from the outcome being in doubt. That said, it ending because Tyler ran around the ring a couple of times and geting Dempsey winded before the signature BEAUTY SHOT OUT OF NOWHERE, as was the chant that went up as a result. If it was "Cardio!", it worked; if it was "Wario!", even better.
Bridge and Tunnel hyping their six-person tag next week was perfectly serviceable, and most notable for Carmella showing some heretofore unknown mic skills as she outshined her boys Big Cass and Enzo Amore in wanting to get her finely manicured hands on BAMF. For about half an hour there that looked like it was going to be the signature match next week. Hell, knowing Owens' proclivities and his rematch against Cena Sunday, it still might.
Dark Emma smashing Blue Pants on her birthday after jumping her from behind to start the match is some really good vintage heeling, and if you're worried the audience is going to turn Sasha face since she's so awesome you can, as the announcers brought up entirely too briefly, draw a direct line from her losing the Women's Championship match to Paige at the first NXT special Rival to where she is now in terms of character, and character development. Emma's only one of the latest NXT ladies to develop her dark side in Full Sail; Banks is just the unquestioned master of it (so far).
Dana Brooke using hatred for fuel is pretty awesome, and there's plenty for her to feed off of. You can almost
hear
the
Nas' "Hate Me Now" video package
coming in 2021, can't you? Can't you? No? All right...
The promo they had about Finn Bálor unleashing the Daemon come the Fourth for the live show in Japan was part
Patrick Bateman, part Sean O'Haire, and all awesome. Until Regal made his edict you could've even made the argument it was the show's highlight.
Zach Ryder teaming with Mojo Rawley is like adding Rome to Sublime. It reeks of mandatory fun, and not in the laugh along with Word Crimes sort of way. The only dance Rawley can do is the Schmoney; unfortunately he recycled through some nineties classics and Sweeney Todded up the lot of them in so replicating. Also can do without his rooting section only turning up to get hype. There are starving columnists in Southern California who would kill for those third row seats, you ungrateful Casebolts!
But again, all that was merely side dressing. Come next week, if Owens and Joe actually get their hoss on, it's going to be a medium rare 72 ounce cut of prime rib to fill the belly of any pro graps enthusiast.