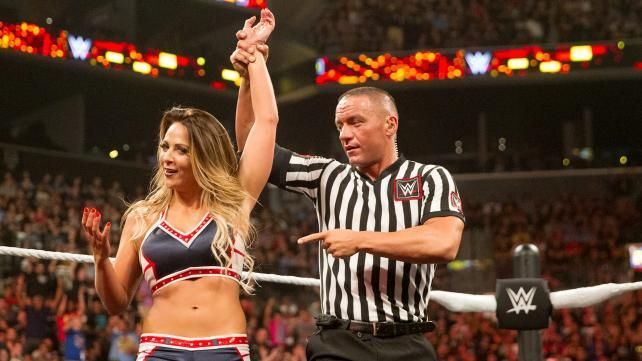 And newwwwww #1 contender?
Photo Credit: WWE.com
There's a reason one of the baseline criteria on
Chopped
is presentation: simply put, it matters. The same way everyone who was in Sterling Cooper's orbit had a different reaction to Pete Campbell than to Don Draper and the same way ex-crooked cops treated Gustavo Fring differently than Walter White runs akin to Michael Vick over here and Ben Roethlisberger also over here but slightly apart. The look of impropriety alone is sometimes enough to become the prevailing hangman, no matter what actual truth(s) may shake out afterwards. In general, the story goes on A1 and the retraction somewhere in B7 where it can be tucked into a corner to be given enough room to technically be alive while its impact is as good as stillborn.
And it was that corner and more WWE found themselves in the enviable position of fighting out from, victims of their own sellout successes. While Saturday's Takeover event got feted with a blizzard of rave reviews and featured a series of watershed moments including Liger's one-off, two title changes, and the biggest bow in the history of 21st century pro graps to date, when the matches that aired on this final NXT episode of August 2015 happened, all of the aforementioned had yet to. This put them in a position in which, an extra 30 minutes added on to the program or no, they would have to plan around the fact that they would be bereft of using any of their three titleholders lest the whole larger event be given away; further putting them into trouble was the fact that at their
last
series of tapings, so concerned were they about anything for shows
after
this when they recorded for their lack of rest before entering Chris Wallace's borough that they went to the almost unprecedented step of taping footage that would only be proven to be fake as of a few days ago, thus making people in Florida and self-spoilers online expect (a) when they tuned in for the live special only to get a (r) or maybe a (378).
The explanation of the scheduling is necessary to understand the oddness of the show and the pastiche that eventually went on display.
Every
single match from Saturday got a video package and a little follow-up segment on-site at that time to move along the plot if only incrementally (BAMF is mad and Alexa Bliss wants Blue Pants, Apollo Crews was stunned almost to the point of gleeful silence on his debut, Finn Bálor proved himself once and for all while Kevin Owens' response to a possible NXT future was a lengthy death glare before literally leaving the building, etc). Every single woman in the fatal four-way that closed out the show got their own Very Special Looks which aside from being more character development than getting demoted to Mondays ate up some more clock that most NXT fans probably spent quizzically wondering why
this
women's match was getting the main instead of the MOTY candidate that semi-mained on Saturday's show between Bayley and the Boss, both of whom were--sing along with us now--not available for this show. (Though if you have a couple minutes to spare and a willingness to fight off dust mites in your eye sockets, you should
watch Bayley's celebration in the back
if you haven't already.) In summation, they taped something first to air first and last, then something second to go on third, followed by a quick intermission to tape their biggest thing ever third live while airing second and pretty soon it starts looking like the loft attic in the first and only season of
Heroes
trying to keep all the lines straight and connected, doesn't it?
While this may end up feeling like a completist's-only show given the amount of padding and the purgatory that the titles and their surrounding situations were thrown in, you do have to keep in mind that this is NXT and their biggest crowd ever. So while they didn't receive a shot at the belts, Enzo Amore and Big Cass got to kick off the show, and to say they were overwhelmingly beloved does the phrase a massive disservice. Technically, their match featured them teaming with the Hype Bros against Scott Dawson, Dash Wilder, Jason Jordan and Chad Gable, but their allies were clearly the side dish and the heels might as all have worn red shirts to the ring. Two segments later the modified Rocket Launcher gave the hometown boys the pin, but while the match was an easily forgettable if still cromulent piece of business it'll be more remembered for the hives Corey Graves almost audibly broke out into over hearing nearly 16,000 play sing along with their favorite certified G and bonafide stud.
Their partner in crime Carmella wasn't so lucky, as she faced Eva Marie (whose reaction was exactly like Amore's in a bizarro world where John Cena is still waiting on his first singles Championship and Senator Linda McMahon is running on implementing a universal basic income plan once elected) in the evening's second match. Eva was so widely despised her taunting of the crowd was drowned out by the same, but it didn't stop her from signalling after hitting Sliced Bread #2 for the win that She Wanted The Belt and blowing kisses to her sea of haters. And Bayley does need a heel challenger with the Boss demoted to Mondays.
But in the nearest future, it'll probably be Emma. In a nice bit of symmetry to make Continuity Bear do his dance, her Very Special Look video package that aired during the show started with a replay of the one they ran before her title rematch against Paige before an audible bubble popped and we got a (re)introduction to the new evil Emma 2.0 who kicked off the Divas Revolution and is sick of the Four Horsewomen getting the spotlight, accolades, big title matches, and no year-long walks rotating between the bottom two steps of the ladder getting five-finger discount jibes lobbied at her. Don't believe her? As the old Lawler aphorism goes:
just ask her, she'll tell you.
Her and the DanaBot 5000 teamed up early to fend off the Hashtag Diva Revolution members with a focus specifically on keeping Charlotte outside to focus on Becky Lynch. Like everything else in the history of evil people and professional wrestling, it worked spectacularly right up until the moment that it failed, since they couldn't both win the match. Charlotte cleared house for a stretch, then Lynch took them to Suplex Junction, and then Emma went to work. Well, went to work is a little strong since she hit her former Sandwich on the former Women's Champion before another one right into our living rooms onto Lynch, whom she then pinned.
It looked strange at the time, and not just because Emma uses that running cross-body into the bottom turnbuckle as a signature and not a finish. Charlotte laying out Emma with a spear and a Natural Selection post-match with everybody else in the building counting three and her audibly yelling she didn't need the ref anyway afterwards did make it seem like the winning fall should've been a nearfall to set up a happy close, but then how to explain Dana jumping Charlotte after that and getting more heat on her before Lynch recovered and the good girls cleared the ring of the heels after they both put on their finisher submissions? Whether this is a design that looks like an accident or the inverse is borderline irrelevant now; given that the #DR has taken away the depth of their division and a rematch (however well done it'd be) between Bayley and Banks would put the fait in accompli, giving a heel a shady but wholly explicable win is always a fine way to go, especially given the fact it was the darker, more sensuous and jaded Emma that put the biggest roadblock in Bayley's road to redemption by laying her out to the point where she ended up with that brace on her arm, at least in Joseph Park, Esqville. And surely no black hat, Australian or no, would have the long-term memory of Bayley returning and kicking off her march to the title by getting revenge and laying her out with a pinfall victory a few weeks ago, right?
Sure. Say: that's a nice plot of land you have there, but have you seen these beads? Pretty snazzy, right?
On Saturday night, NXT showed what they can do under the best of circumstances; on Wednesday night they showed what they can staple gun together when circumstances don't necessarily allow them to be at their best. And at this point, either way, it's like pizza or sex--even the worst of it is still pretty good.