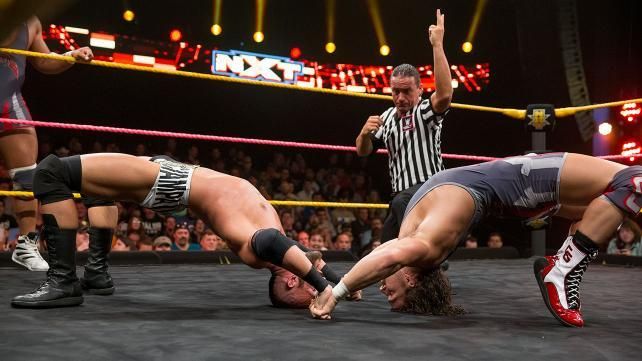 "It's like looking into a mirror, only not."
Photo Credit: WWE.com
No hilariously oversized key changed hands, no proclamation was made, and no government official stood in front of Winter Park's City Hall putting over what a exemplary example Full Sail made for the rest of the community.
It would've been nice, but it was completely unnecessary; for their last hour in October on the night of another GOP debate, NXT was the Mayor of The Zone in an absolute landslide. Hell, it was so what the hashtag millennials call on fleek that even a show with two pretty convincing women's wrestling bouts, a brilliant bait-and-switch that advanced character alignments and a hard-hitting main event featuring two of the finest on their roster the jewel in the crown that shined brightest came early in the show and was a tag team match that was borderline wrestling for the sake of wrestling.
Apparently nobody told Chad Gable, Jason Jordan, Tomasso Ciampa or Johnny Gargano that phrase sends shudders down the thinking fan's spine, or maybe they just redefined the phrase as sort of saying wrestling for the sake of wrestling is booty unless you're damn good at what you do, which they proved over two segments that took up the meat of the show before the main event -- about 15 minutes that felt like they flew by in one- twentieth the time.
Both teams benefited from good showings in the just concluded Dusty Classic, with the unofficially named JJABLE getting a bit more of the burn since they advanced further and got to put on an awesome match in the semis at Respect even if it was in a losing effort. The Gargano/Ciampa dyad got their own little flicker from mounting a first round "upset" and looking good in their own quarterfinal loss. But bringing them together here was like peanut butter and chocolate,
You're the Worst
and binge watching, or decent people and being grateful for being sent pictures of
Celeste Braun
unprompted. It began with Gable and Ciampa putting on a Grand Prix of hold and counter hold and counter counter hold for minutes straight that prompted a This Is Wrestling chant that felt wholly deserved and ended, in a wonderfully NXTesque bit of unspoken symmetry, with Gable pinning Ciampa off his team's two-man still unnamed alley-oop into a bridge. When the chant broke out, it was possible that Gable gained the advantage and tagged out because he could feel Jordan's smile from the apron at his skillset on display even though he wasn't facing the Turk to his J.D. Varsity Club 2K15 won the portions of the match where it was ground-based mat technicianhood while Team Indie showed off a few different hard-hitting short-term chain offensives that looked terrific, sounded great, and still managed to stay just a shade inside the five count every time.
This wasn't quite a MOTYC due to the haphazard nature that it came out of, but this may very well end up becoming the best of the most underrated matches of 2015. Part of it was both teams' interactions with each other and the crowd: Gargano getting the advantage after the opening sequence and informing the few that didn't know "This is
Johnny
Wrestling!" will perennially be the Kelly to Jordan taking him down, tagging out and handing him off to Gable setting up the former Olympian for armbar control and an appreciative "Thank you!" followed by JJ's "Welcome!" that sparked what was the first-ever non-Vaudevillian CHIV AL RY chant in Full Sail history, and that will probably be the Beyonce until 2017. Part of it was the fluidity and crispness all four brought to the table. But part of it was the sheer glee of the match, as if they'd been told they were main eventing a two-hour live special instead of putting on a borderline throwaway in a normal episode and they all performed accordingly, a cluster of Cheshire cats who'd stolen the cream and knew it tasted good and even more than that, was in front of an appreciative audience so firmly in their corners that it was as if they'd gotten a taste of it themselves. This wasn't Nakamura/Ibushi at Kingdom 9 or the Iron Maiden at Respect, but it's still worth going out of your way to see. The WWE can do tag team wrestling. The WWE can do tag team wrestling? The WWE can do tag team wrestling! Bring on the rematches. Bring on either of them against BAMF, or the Vaudies, or Dash and Dawson, or Enzo Amore and Boig Cass once they get recovered from Dash and Dawson not even bothering with the pretense of the match this week and just jumping the Bridge and Tunnel squad from behind and laying them out.
And how good was this match that it overshadowed another huge step forward for Dash and Dawson? Again, don't tell if you can show; last week D and D lost but that led to a show of bad sportsmanship where a rematch the following week felt like a logical progression, that the New Yorkers would ask for a rematch to get themselves a taste of revenge. Instead
Scott
Dawson became the most hated person in Full Sail this side of Sasha Banks snatching Izzy's headband by jumping Enzo from the blind side while he was doing the usual pre-match intros (Checkov's Mic after a couple years? Don't put anything past NXT) and Dash
Wilder
joined him by leaping off the second rope and stomping on Cass's knee when Cpt. Redneck had it exposed in a modified leglock after banging it into the apron a few times. They, as the dastardly scumbags, are now pretty lined up to take aim at the champs undeservedly, Cass and Enzo have something to do and maybe a title match to cost them, and you completely subsume any "You guys just
did
this match last week" complaints by not doing a match logically but still advancing the plot in the tag team division with BAMF put on the backburner. An absolute master class, again told in probably under 200 seconds.
That sort of interwoven thread came when it came to the title picture, and the Big X, and the main event on the show. Again, it wasn't like Samoa Joe v. Tyler Breeze was some sort of Botchmania fodder that induced eye rolls and facepalms from the thousands watching along Network or no; it just didn't hit the dizzying heights of the aforementioned tag. Yet as you know, when you get a meal at a decent restaurant, the sides set up the entree, and so before we got there we got a video package of Finn Bálor being awesome to kids, adults, and the differently abled while hitting upon the Who Is ________? series he got earlier this summer right before he became champion in under a minute this time, indy footage ahoy and all. That was the amuse bouche to set up the second part of A Very Special Look At Apollo Crews which was more focused on his NXTenure from the crazy nature of his debut to his winning the battle royale to earn the #1 contendership. He was quick to remind the audience that he'd said even back in his introductory promos before the unveiling at Takeover: Brooklyn that he was coming to be a champion, and friendship and respect aside he was still coming to hoist the title at next week's end.
That
flowed into the main event, with two men fighting pretty much because they'd cost each other the shot Apollo's about to receive, one of whom just stood by Finn with friendship and respect while winning the Classic and
also
made noise from the beginning about being possibly the eighth man to hold the NXT Championship.
Again: levels.
Breeze was doing good at his smirky combination of stalling and catch as catch can until he inevitably got caught, at which point an even-more-furious-than-usual iteration of Joe opted to light him up like the Christmas tree at a drag race culminating in a jaw-dropping forearm suicida going into the final break. Prince Pretty had his moments, and somehow it didn't come off as an LOLWHUT moment when he was in control and hit his signatures like his sidewinder Backstabber or the supermodelkick. Everything would've been fine had he not a) just gotten promoted to the main roster and b) tried to roll Joe up. Giving even a weakened Joe your back would be like giving Ronda Rousey your arm in a fight, and Prince Pretty eventually went to sleep slash RAW. We saw an advanced, more vicious and more focused Joe, the same way that Emma absolutely routed Shazza in the opening match in order to presumably fend off the incoming death that Asuka is set to visit upon her once she stops smiling at her. And you could be forgiven for thinking that the show would end on that upbeat if antiheroic note.
Nah.
It was to the back where the yet to be fired Devin Taylor had the champ front and center. Bálor cut what may've been his best promo to date in his NXTenure, and it didn't suffer any for its brevity. It wasn't as if he waved off Crews' incoming challenge and he in fact went out of his way to say how fired up he was for the match and the fact that Crews has beaten quite a few people to get the shot he has. But he hasn't beaten Finn, the same Finn who fought for a decade and a half to get to be in a position to be the king of NXT's mountain. And as easily as he allowed that someday Crews would be the holder of the Big X, in the same closing sentence he gruffed out that someday wouldn't be next Wednesday. It may have been a cliche, but it was one that worked wonderfully here. Bálor touching upon his past without revisiting his whole past -- since this was Crews' spot in the show, and he would know since he was the last one walking this road in the beginning of the summer, at least on the men's side of the ledger -- was a fine grace note, and the edge in his voice perfectly encapsulated a fresh-faced nerd who can seemingly summon his inner evil at will and paint it to match.
It's not that the upcoming match will suffer from an absence of anything on the line, or will be more about the atmospherics than the in-ring abilities of the competitors. If there was a detriment to be offered besides the possibility of Joe jumping the queue to get the spot that he was kept from (and having recently dispatched the roadblock that put him in that position), it was that two guys who've been depicted as two different flavors of nice and almost palate swapped versions of each other down to the independent bona fides and big debuts would fail to tap into the necessary ego and almost superhuman internal mechanism that it takes to be the titleholder of WWE's critically-acclaimed feeder system. In a weird way, the almost absolute absence of that is why Sami Zayn and Bayley's stories have worked so well over the past couple of years, but they're the exemptions that prove the rule. Finn's been walking around almost literally flashing the title at everybody over the past few weeks every time he appears; outside of KO it's hard to think of anybody who's angled themselves quicker into a title shot faster than Crews in a place where the story has almost always been someone fighting for months and yes, years before finally hoisting the Big X overhead in front of the Floridians. But Crews' shirt and his words have said what his ultimate goal has been: he's just in a position now to get there at warp speed. As for Bálor, he's spent most of the first half of the year after losing his old tag partner what's-his-face to injury being the #1 contender and failing at it before he managed to succeed and become the only NXT Champion in the second half of the year.
Next week, as long as an angered and angry Samoan lets them, they'll get a chance to either prove why they're the seventh man in an illustrious group or, allowing for the upset, become the eighth.
It'll be almost as if they're fighting to be Mayor of the Zone or something.