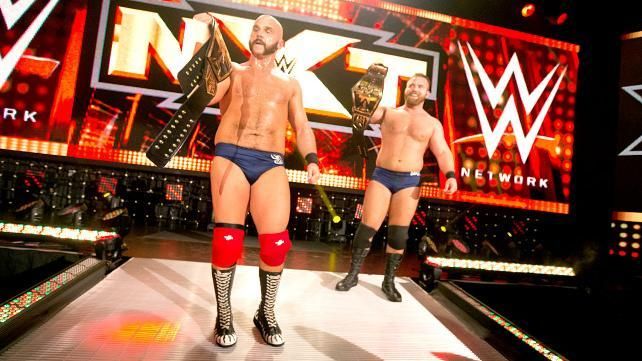 Maybe not the Mechanics, but definitely the new champs
Photo Credit: WWE.com
All right, okay, yes: a large part of the appeal of professional wrestling is the funhouse mirror reflecting society that it puts on display on a weekly basis mixed in with the endless serial nature of a soap opera. But in explaining his newly-found heelish actions in the final segment of the program, Samoa Joe said that his newfound worldview rotated around two things (the choices people make and the actions they take to back them up, more about which imminently); when it's at its best, pro graps tells stories about two things that answer the "Why do you bother watching this stuff?".
Those two things, of course, are titles and hatred, and despite the main roster having a largely dismissable "Network special" called Night of Champions down Full Sail way on Veteran's Day it was all about the belts for the hour...oh, yeah, and the whole These Two Men Plain Just Don't Like Each Other hatred thing, as well.
In a nice bit of symmetry, the show started off on that latter note (Crews getting revenge on Corbin possibly costing him -- yes -- the Big X in last week's main event by jumping the Lone Wolf before he could even start wrestling the Perfect 10) and closed with it as well via Joe and still the Big X beltholder, Finn Bálor. Right before the opening salvo in the Champ/Joe contretemps was a title match, and for the first time in a long time on regular NXTV, there was a title change as you can see above.
No official name anymore, no varnish, no pagentry, and no B.S.; for Dash 'n Dawson, the aesthetics are in the basement buried underneath rarely worn clothes and rarely used accouterments. No, what their now golden house is built upon is death by a thousand paper cuts and sending oppponents' health meters in the red with a healthy mixture of precision legwork and outright dickery.
Of course they're not the Mechanics now; those are the guys you go to see when you want something mended, and all the former Captain Redneck and - do is break stuff: patellas, MCLs, et al. It happened during their semifinal run in the Dusty Classic, it's been happening to Enzo Amore and Big Cass for the past few weeks, and tonight against the now-former Champions Vaudevillians, it happened to Aiden English and Simon Gotch as well. Set up by a signature Dawson chopblock towards the tail end of the first segment, the back end of the title clash saw D and D decimate English's leg with throws into the post, mat slams, and an array of double-team maneuvers. Aiden's insistence that he could pull off the Whirling Dervish despite Gotch just having recently gotten in for his Gibson run would prove to be the downfall of the throwbacks, as he was tossed then into the stairs and English got the same double-team kneecapper/Pillmanizer (that really needs some sort of name or descriptor besides "that's the move that took out Cass!") before tapping out to something applied by Dawson that showed more than a passing resemblance to Corey Graves' Lucky 13 leglock.
(Ed. Note -- I prefer to compare it to Jamie Noble's Trailer Hitch, seeing both guys are of a Southern persuasion. TH)
Dirty, but clean as a sheet in the center of the ring. Bending the rules without getting DQed and losing their shot at the belts. Kinda jerks, but brilliant in their own way. Or you could just waive over the dichotomies and call them what they are: champions. Furthermore, the ex-champs are sure to be inducing their rematch clause in the near future; the Bridge and Tunnel boys will want their revenge (and their first title reign just as this one is for our new tag division overlords) once the team is fully operational again. Kudos for Dawson slogging through the last twelve years as well as Dash for way too long in order to get their first NXT titles, but while they put the period at the end of the sentence this week, this isn't even the end of a paragraph and the book's barely begun.
It was
not
the Wednesday to be a Champion in Full Sail. For all their crowd support, the Vaudevillians left the building 10 pounds lighter each. Finn Bálor? He didn't lose his title, but he damn sure lost his pride. Thankfully, Joe didn't delay or dodge the anticipated "Why, Joe, why?" question the end of last week posed but rather, as all fine heels do, answered mostly truthfully with a bit of hauteur and revisionist history thrown in the bargain. After all, in The History Of NXT's 2015 According To Samoa Joe, it was Bálor who sought him out and then get carried through a winning run in the inaugural Dusty Classic. It was the Champ who didn't follow through when William Regal put him in that number one contendership battle royale after saying he would give Joe the shot. And it was the sometimes-Demon who came out and threatened to kick Joe's ass about half a minute before he found himself on the business end of a Coqina Clutch and going the eff to sleep in a way that'd make Samuel L. Jackson proud. He managed to recover before the show went off the air, if only incrementally, but throwing Drake into him to set it up or not for the second week in a row it was Joe standing tall with the Big X in his meaty paw while Bálor laid below him an unwilling member of Nap Junction's city council.
As for the other Champion in NXT's employ, Bayley may have managed to leave with her title. (Her title match with Alexa Bliss, who CONTINUES TO ALMOST BRING SHAME TO THE FINE NAME OF THE FINE-ASS MAMA BLISS EVERY SINGLE WEEK, has the prestige position of announced matches for next week's show.) But her pride got slashed even in a six-person intergender effort, with The A in BAMF making off with her belt in the middle of the match. It should also be noted that the old Bayley would've been destroyed by this -- in November, no less -- but here Fancy New Bayley gave a Bayley-to-belly to an indignant-because-his-cheating-was-about-to-be-succesful Murphy on her way out and get her belt back backstage later in the show after Bliss treated herself to an impromptu photo shoot with the title and fled the moment Bayley appeared, dropping the title in her exit.
It is here where the waters muddy, as Bayley almost literally ran into Nia Jax, who had shown up in the program earlier to lay waste to some cannon fodder but also took a semi-private conversation with Eva Marie before she did so. But, this was their first interaction, and neither of them had any reason to have any beef with each other, leading to a finely awkward few beats since they didn't want to LayCool the belt but not seeing a reason to start throwing bombs at each other. Not having that feeling of hail lady well met, Bliss used that side mission to lay out Bayley from behind and smack talk her...only to have Jax pick up the belt. Discretion being valor's upside, Bliss showed off her Homer into the hedges impersonation as the newcomer gave the belt a once or twice over...and then handed it over to the fallen Bayley, before wordlessly walking out of the building. Curiouser and curiouser.
But everybody's got a piece of the action: there's no rainbow at the end of this story for Bayley like the borderline All-Japan sendoff she and Sasha Banks got at Respect; all she can do is be The Champ for Izzy and all the other Izzies out there while knowing that literally other women will pop out of the woodwork and try anything to get what she has earned; bliss has proven to be an effectively crafty fly in her ointment and her hired goons will probably be lingering around ringside next time around loss to the Hype Bros or not; Jax on her own merits should already be on Bayley's radar and the unknown nature of her talk with Eva Marie (furthered by the fact we didn't see a clump of red hair under a stretcher after the fact) means she could want the belt flying her own flag or may be the landmine clearer a certain Total Diva might be putting into her employ to make that Women's Championship hashtag all red everything.
Titles and hatred.
Hatred and titles.
In simplicity, truth, and the inverse as well ad infinitum.
Who would want it any other way?