Previously on NXT...the new look of the Vaudevillians wasn't that, but they got off the schnied all the same...Carmella beat Emma to further bolster her bona fides ahead of this week's title match...Regal decreed that Sami Zayn & Samoa Joe would face off for the #1 contendership much to Baron Corbin's disgust...and Finn Bálor put away Apollo Crews with a Coup/Bloody Sunday combo and even didn't get jumped afterwards.
And now that you know the rest of the story (that was denied to you because of an unfortunate bout of food poisoning)...here's NXT.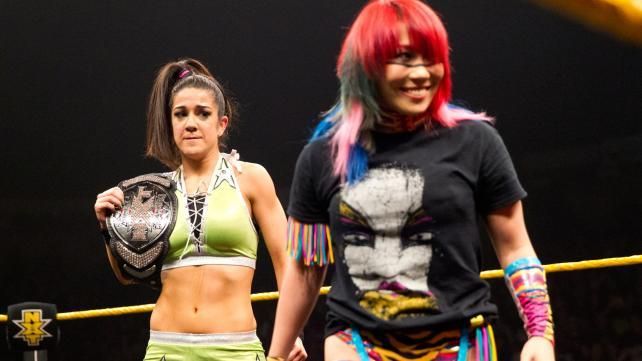 Agreed, champ. Agreed.
Photo Credit: WWE.com
Here is the thing, if you are going to be a one-note show, that note better be strong, it better be loud, and it better be damn good. Fortunately for NXT, they spun gold about silver in ninety seconds to the point that it pretty much rendered everything else on the show (Baron Corbin pretty much blowing through Johnny Gargano, showcases for the Hype Bros, Elias Samson, and Cameron stumbling through offense before losing to Alexa Bliss) irrelevant. And unsurprisingly, they did it by showcasing and showing off their pride and joy, the women's division.
Before the match in an earlier portion of the show, Carmella talked about this opportunity in the main event being her first title opportunity and the gravity of the whole thing--how hard it was to even get herself into position to get the number one contendership, and how she was going to have to fight like a daughter of a bitch in order to get to become fifth in an increasingly storied tradition, since who knew when she was going to get another opportunity at it, or even if she would. And even though at times she expressed concern over Bayley's well-being (the inverse happening as well), it didn't stop her from throwing her all at the effort, including two beautiful between the ropes planchas and nailing her increasingly signature Flatliner to set up the scissor submission she hoped would vault her into the promised land.
But Bayley is now inarguably the best Women's Champion the black and yellow brand's ever seen, and even on a night where she didn't get in a lot of signatures or even her biggest title-earning move, she still managed to ride out a series of reversals and flash falls into a jackknife cover for a victory. That's the thing about champions, especially ones at her level: they don't need their level best to beat you, they just have to be better than you and maybe catch a break or two.
Baymella said they were going to be friends before, during, and after the match, and with no alignment changes even as a result of their hard-fough bout, the fireworks were going to have to come from elsewhere. They would as Eva Marie and Nia Jax would jump the Princess of Staten Island in the aisle way and then leave Bayley temporarily laid out, providing an opening for Jax to hit her legdrop on Carm a couple of times. The crowd was rabid, hoping for someone and anyone to stop this and right the wrong their eyes were being subjected to.
And then out came Asuka.
It was very interesting watching these parallel tracks start intersecting, as Eva immediately went into reverse while Asuka ignored Bayley (and for that matter, Carmella as well) and continued to make her way to the ring while Jax held her ground firmly in the middle of the ring over the fallen body of the now presumably former number one contender. In fact, Eva seemed to talk Nia out of a throwdown, and they both left the ring without further incident besides being unnerved by the Asuka rictus grin she could practically trademark at this point. Her smiling them out of further shenanigans and then all the way to the back gave Bayley time to recover and check on Carmella before glaring at EMNJ, and then it happened: Asuka wheeled around and smiled at Bayley. Goldberg used to say her face's intent in two words; the former Most Dangerous didn't need any, though a few loving brushes to the title certainly got the point across to the few who hadn't received it up to that point. The champ's face went through a handful of emotions, but most prevalent seemed to be two words she'd never say out loud: "...aw,
damnit.
"
Mixing barely concealed anger with a hint of possibly bursting into tears, she stood in the ring as Asuka walked off to applause and eventually her music started back up once again. But even though she was a winner she sure didn't look like one, and it was all due to the newcomer gaijin still having intentions on becoming that fifth that her BFF failed to do moments prior. Like a modified Don Draper, Bay's finding out the only thing you get when you get rid of challengers is more challengers, and even after half a year the threats get bigger, viciouser, more capable.
Again: one-note show.
But that note was de lic ious, and it may be playing out through the rest of the year. How much of that time everybody's favorite hugger spends as Full Sail's Queen is still yet to be found out.