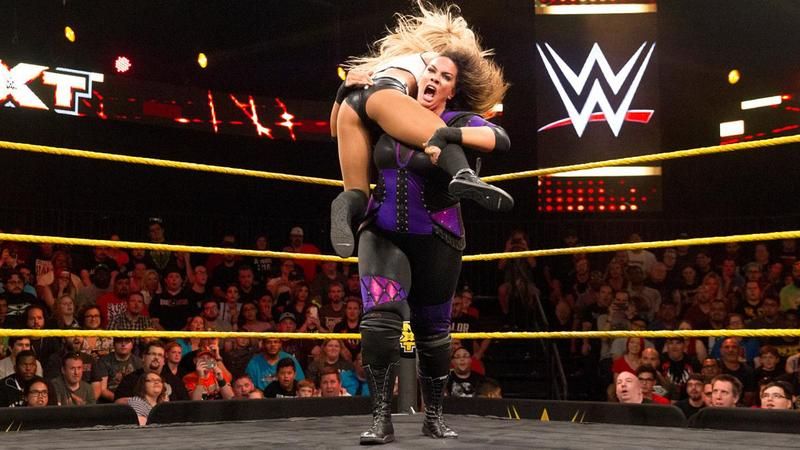 And NEWWWWW #1 contender...
Photo Credit: WWE.com
As Asuka and Nia Jax malevolently, gleefully stared each other down to draw the curtains on the final May 2016 episode of NXT television, a thought may have occurred to other pop culture polymaths watching the new number one contender mean mug the recently crowned champion (or maybe that should be the other way around, since Ms. Most Dangerous made a point of getting in the ring when she could've left from the rampway and then held up the belt right to her face): at what point during the last month did the San Diegan learn the game from William Wesley?
Because suddenly the brighter lights of the women's division could never check her, and in a fortnight that may include the Empress of Tomorrow her own self.
For those of you who prefer something concrete in lieu of something phantasmal, let's go over this previous fortnight. On last week's show in the main event Jax showed off some queen sized ovaries and leveled up by beating Bayley fair and square. She survived the stuff that beat her in London and wrestled smartly, even if she did so with no absence of malice to the chagrin of the Full Sailors. What gave her the clean opening to pick up the dub was a legdrop delivered to the back of a leg Bayley had tweaked avoiding a suplex attempt. Nia focused on that, steamrolled a weakened former champ in the corner, and one enzui Legdrop o' Doom later was getting her arm raised by a ref while several of them had to help Bayley to the back post-match.
In a nice callback to how Jax couldn't get cleared for the battle royale earlier in the year, Bayley couldn't get cleared and as such her imminent rematch got put on the back burner. In lieu of that, a triple threat main evented this week with Jax, Carmella and Alexa Bliss facing off. The smaller ones should've formed a temporary alliance to fell the resident Goliath of the women's division lest they go SPLUT and GORSH, but lately it seems like Bliss has only been put on this Earth for three reasons: make Cialis obsolete, disappoint the ever-lovin' heck out of Mama Bliss, and be of low moral turpitude. Bliss bailed at the match's outset and was more than content to watch Carmella try very hard to upend Jax and ultimately fail like her BFF did last week. It took her until the second segment to do anything by way of offense and that was only on Carmella after the latter had temporarily excised the fellow San Diegan out of the picture. Jax would go on to survive a Sparkle Splash as well as a Carmella tope before ultimately reigning surpreme, then showing no back down at all by closing the show and informing the champion that "If you step this close to me again, I'm gonna drop you where you stand."
It's become de rigeur pre-Takeover to look at another ridiculously Denali-esque card, point to a match, and anoint it the show stealer. But then again, this match has both the storyline and increasing in-ring bona fides to be something worth seeking out even if you're not fortunate enough to catch the entirety of the two-hour Network special.
But then again, maybe not.
Because Austin Aries is going to face Shinsuke Nakamura come the 8th as well.
You see, a couple of weeks ago Regal made the match wherein the Dubstep Cowboys would face TGMWEL and a partner of his choice. Many of us thought this would be the fissure that ensured a Dirty Heels reunion as well as the full-time NXT debut of one Robert Roode. Instead the former ROH and TNA World Heavyweight Champion decided to bring a WMD to a snowball fight and employ the textile resources of one King of Strong Style. The beating that ensued left not only Blake and Murphy broken up but estranged from Alexa Bliss but definitely lost in the outcome was Aries on the apron waiting on the tag for a tag that would never come. Nakamura was in his finishing run, which is greater than anybody else's finishing run, but his fellow recent debuter was soft pretzel level salty and came out this week to clear the air and flash glimpses of his notoriously heelish ways in the process.
The crowd was having mixed if generally positive responses when Aries was running down the list of his bona fides; there was no such wobbling on display when the strings of strong style brought out the king. He shrugged off an Aries slam as a glancing blow and informed him that A Double wouldn't be the man in the ring about to hold the NXT World Championship; it'd be him. The crowd roared their approval and again lustily chanted his name. When Regal walked out to the stage it was the easiest layup this side of Steph Curry to set it up for Takeover. Aries isn't an out-and-out heel yet, the same way this (so far) isn't technically a number one contendership match. But come on. We're going to live in a world where Joe/Nakamura for the Big X will headline within 48 hours of SummerSlam unless the collective crystal ball has gone out. What a time to be alive.
Yet Auries and Swagsuke are merely newish at this point and starting to settle into their positions amongst the roster's upper echelon. Making their debuts on NXT in the opener and the show's best match were the rechristened TM61, even though the men now known as Shane Thorne and Nick Miller (prepare yourself for 30 months of
New Girl
jokes) stated in a pre-match promo by way of tagline that TMDK. Interestingly enough to kick off the WWE-endorsed portion of their careers, they faced off against Johnny Gargano and Tommaso Ciampa, a unit semi-jokingly referred to in some circles as Team Indie. What spun forth over the next two segments wasn't a MOTYC, but it was still a far better than average TV match. The crowd was firmly behind Gargano, warmed up to the former GHC tag champions over time, and winced and oohed every time Ciampa laid in the offense, which was often. Early on they exchanged chain wrestling but that was merely the amuse bouche to set up increasingly powerful and occasionally intricate double teams on both sides of the ledger. When the dust cleared it was the guys already signed up for the Cruiserweight Classic who'd gotten the duke with their increasingly signature sandwich enzui running knee/basement superkick combo, but everyone showed everyone else respect after the match and the crowd was pleased. It'll be interesting to see where they take TMLXI in future efforts to establish them as a new spotlight worthy entry in an increasingly busy tag division.
Takeover: The End has got three sterling title matches and another top shelf singles bout set in stone come the eighth. There will be possibly be another match or two added, and like Mae West said, too much of a good thing is wonderful. Nia Jax might've concluded the evening by going back to back, but there aren't enough vertebrae in a chiropractor's office to count how many times a Takeover's done it.
And now we wait.