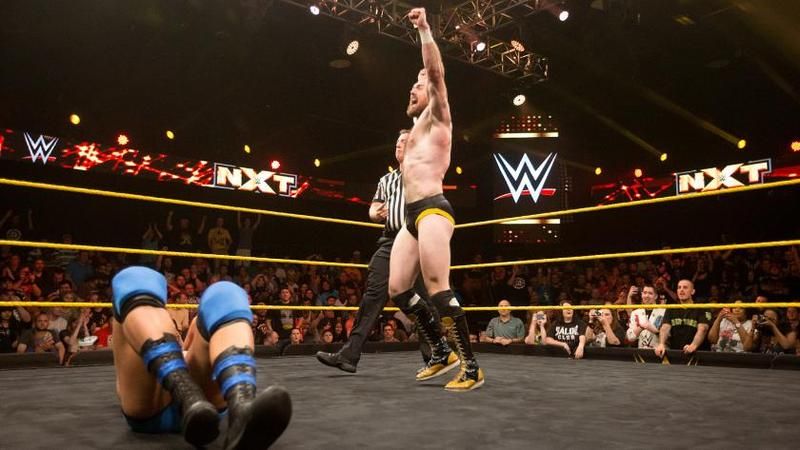 Not a Lorcan't but a Lorcan
Photo Credit: WWE.com
The Takeover a couple of weeks ago was dubbed The End, and then at the 11th hour (of the beginning) was practically staple gunned onto it. While it was true that the main event and clean victory by Samoa Joe signaled the End of his rivalry against Finn Bálor with him triumphantly clutching the Big X, it was in the other matches on the card that seemed to have been capstoned and sent people off on enough downward spirals to evoke Trent Reznor in '94 or Adam Copeland in '98. Only Nia Jax seems to have responded to her loss with any kind of equanimity; powerbombing Liv Morgan into a fine paste seemed to be pretty therapeutic for her.
The fellas? Forget it. American Alpha's going to be on the side of a milk carton for a few more days, even though they're due to return next week and will probably treat their opponents like so many pounds of
pierogi
. The afinnmentioned is about to get kneed so hard in the face that he'll start forgetting where and what days he works. (His opponent coming up on the 13th of July got in further shape in this week's main event showcase by kneeing Buddy Murphy further into irrelevancy.)
Before the former tag champ got his mate g'dayed, the last person to get Nakamurafied was Austin Aries, and as a result this was the week that he fully donned a black hat. He took it out on, of course, No Way Jose.
Follow us on this one. Backstage A Double made excuses while not making excuses, revealing his destination of currently standing where Joe is remained unchanged, King of Strong Style or no. Jose suggested that he look on the brighter side of life, and without directly invoking New Day (who rock, btw) exuded a power of positivity he didn't need in dusting off some cannon fodder directly afterwards. Aries came out, was kind enough to briefly rehash the backstage segment that the Full Sailors hadn't seen in a nice touch, and then got on down with his bad self. Of course, for anyone who'd seen footage from the England house show tour or had a double digit I.Q. or above you knew his bad self was going to come out. It took a few beats longer than expected, but after a rolling elbow delivered while they fiestaed forever atop the announce table the beating was on and it culminated in an impressive looking Last Chancery on the rampway after Aries feigned leaving.
It's pretty easy to remember that while he fought with the side of the angels, Samoa Joe did a lot and even co-held the inaugural Dusty Classic trophy. But, of course, he didn't get to be a world beating unofficial world champion until he laid out his friend and then took from him the prize he and everyone else down in Orlando cherishes the most. Having being forcibly proven to not be the Greatest Man Who Ever Lived, he should ably slip back into the more familiar snark that he staked his reputation on even if he does find the sobriquet Greatest Man Who Ever Induced Laughter From the Sheer Churlishness and Complete Foreshadowing Of His Heel Turn unwieldy.
And as for Tye Dillinger?
WOOF.
Losing to a guy ten times better than you a couple weeks in a row is one thing; by the end of the evening's opener Corey Graves had dismissively downgraded him to a five and caused Tom Phillips to audibly gasp as a result. But what other reaction was he supposed to have had? 10ye had just lost -- clean in the middle of the ring, to boot! -- to an Onesie Loncan.
Pardon:
Oney Lorcan.
Whatever. His mama named him Biff Busick, we're calling him Biff Busick. Anyway, you've seen him a couple times previous on NXT television and getting victimized; he didn't even get an entrance while the crowd bathed in the light radiating off of the man from the other side of Niagra Falls. As it turned out these were all just the little flourishes that made the payoff all the sweeter once it came due. Lor - LOLNOPE - Busick controlled most of the match on the mat, and kept it going. The crowd rallied behind The Perfect Ten. He flattened Dillinger with a basement flying European uppercut that nearly sent the NXT stalwart into Izzy's lap. The crowd rallied behind Dillinger. He even dared mock the full extension of all fingers in celebration; you know what response that generated. Once respek had been taken off of his name Dillinger turned up the savagery and absolutely waylaid Busick with maybe the sweetest superkick TPT's ever pulled off but all it did was garner him two very, very close nearfalls. As he started punching away in the corner the crowd counted ten at every turn, which clearly got his attention enough to the point of distraction. Rather than scooping up a subscription to Yasky Monthly, Busick merely shoved him off: just enough of an opening to set up a running Blockbuster and a subsequent three-count that left everybody agog, even the man who'd pulled it off.
The crowd was so stunned they didn't even boo.
You thought Graves or Phillips was going to get shitcanned for dropping the first "What The
Fuck
?!" in the short history of the Network.
And as for Tye Dillinger... poor, poor Tye Dillinger. It's clear the love of other people is destroying him.
Maybe he should find No Way Jose.