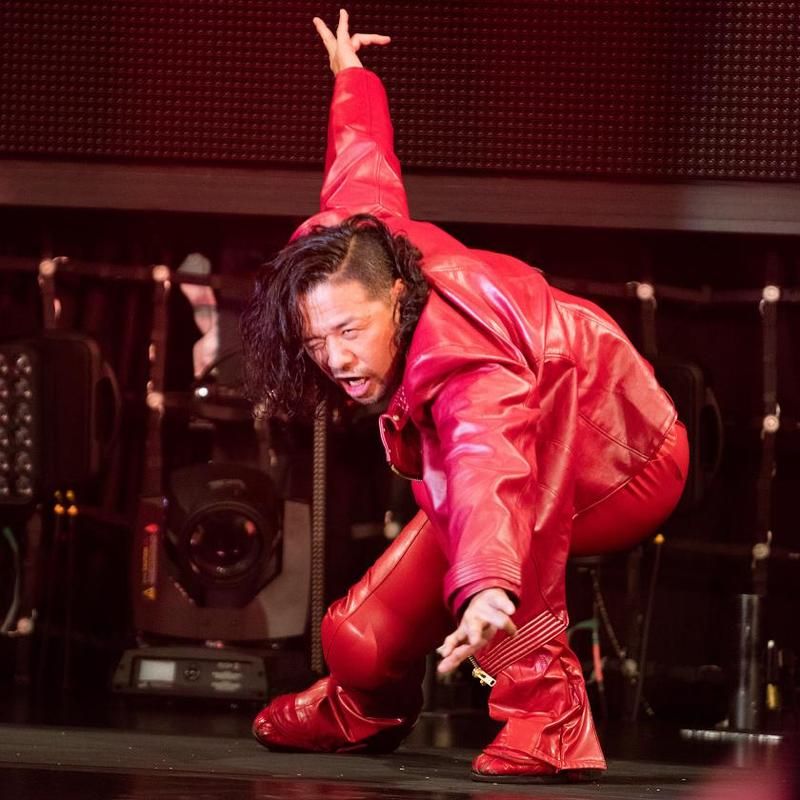 FINALLY (Photo Credit: WWE.com)
The best part of adulting is damn sure not the actual work-a-day grind
of
adulting, it's
having adulted.
Fixing something, whether with your own two Ellsworthian hands or just the accomplishment of getting something done and slashing a black Sharpie through line on it on your to-do list is the feat. It may be more than a bit Sisyphean, but it's still the goal.
Thing to get done
Work at doing the thing
The thing is done
Huzzah!
Oh, crap, we're back at number one again
...and repeat until you hit the all-you-can-eat buffet in the sky.
NXT's final July episode in 2016 was reminiscent of that real world cycle, with a whole bunch of number two to set up their latest number three, coincidentally number two of their Takeover: Brooklyn series. What's made NXT shine brightest when big brother main roster was at their darkest and is the reason that it still has a lot of luster today is that they do a good job of showing and telling you the work, usually in that order unless it's the building blocks for establishing something new.
If you're a long-time card-carrying holder in the Best Coast Bias Fan Club (and Kendrick bless you for it if you are), you knew a lot of the card going into Brooklyn II: the Takemoreovering even if you didn't
know
it definitively. It would be a card with Austin Aries vs. No Way Jose in the lower card, probably, set up by TGMTEL's heel turn and a more vicious Jose coming out to play in addition to Fiestaing Forever a couple weeks ago and on this week's show, where he had a showcase against Steve Cutler to further underscore the point for the three remaining obtuse mouth breathers who hadn't cottoned on yet. Guess what? If you're a babyface with a righteous sense of anger and you in that mindset threaten in the exact phrase that you're going to kick the offending heel's ass--wrestling fans love that! Even noted curmudgeon and newly minted RAW talent Corey Graves loved that!
And the two singles titles looked to be on the path of a double main event that'd make atheists believe. With regards to the World Women's Championship, Bayley's been owed a rematch for months. Battleground detours with her shoot sister from another... missus-ster(?) aside, she helped build NXT's bandwagon with a nail and a rotted out piece of wood. Full Sail is as much her home as wherever her belongings actually reside. She overcame the injury and just Jaxed Up the RAW newcomer responsible for it last week to prevail in their unofficial best of three, and she beat a Blissed off SmackDown Live newcomer and the Right Hand of God before that. She didn't
need
to provide an overhead snapshot of her NXTenure to William Regal or mention that nearly a year ago to the day she won the belt in Brooklyn in what still may be NXT's most definitive moment to date or how much it would mean to her to repeat that feat even against the female Japanese Buzzsaw, but she did so succinctly; just as concisely, Regal concurred and offered to get the papers drawn up before shaking on it. Based on Asuka's own words last week and her Chaotic Neutral modus operandi since Second One, we already know this deal is as good as done.
If only Master Regal had the same convivial working relationship with his current NXT World Champ that he does with the former World Women's Champ. All the flavors in the world, and Samoa Joe, belt and all, is choosing to be salty. The show proper started with Shinsuke Nakamura continuing Wesley Blake's downward spiral (even if the latter got his first name back and a snazzy new Tron and song to go along with it) with ease by kneeing it really hard in the face. He's the King. That's what he do. Hell, he just did it a couple weeks ago to a guy who might be headlining SummerSlam and may walk out of it the first WWE Universal Champion. The thing about Nakamura is that at almost all times, he makes it look like it ain't no thing. So Regal walks out after this and makes explicit what had been implicit for weeks and hoped for for months: the King of Strong Style getting his first shot at the Big X in front of the sold-out rabid Brooklyn crowd.
Upon arriving late, as surly World Champions since time immemorial are wont to do, Joe was informed about this turn of events. As you may have figured out via context clues, he was Not Pleased. The show's final segment began with him in the ring and waiving off the match, as well as calling Shinsuke undeserving. When Regal came out to rebut that proclamation, Joe revealed why he thought a man dubbed King couldn't take on his throne: last year after the Dusty Classic (that's right, and you should've seen the breakdance epic Continuity Bear went into over seeing things from last fall referenced and woven into current events) Regal made him jump through hoops just to get a shot at the belt draped over his shoulder, at least in his head. He had to turn on his then best friend, lay waste to the majority of the roster, choke out golden boy Sami Zayn, and then beat Finn Bálor twice to get where he is now. It's what makes heels elite; you see his point, colored through his own viewpoint as everyone's lifeview is, but then he goes too far (since on his limited schedule Nakamura couldn't get done in four months what Joe admits even in a sideways manner it took him almost a year to accomplish). Not exactly a man who perennially dances on the side of the angels, and with more than a bit of vile and venom in his voice Regal rebutted that since the match was already made he was more than willing to not only take this insubordination as a forfeiture of the NXT World Championship, not only hand the belt Joe worked so hard for over to Nakamura on a silver platter, but most galling for the beltholder have a Nakamura vs. Somebody Else match for the title at Takeover.
This is a show where not half an hour previous Kota Fracking Ibushi of all people showed up and laid waste to Buddy Murphy.
This is a show that announced the return of Hideo Itami for next week's program.
This is a show that also announced between Joe's arrival and his proclamation in-ring that Bobby Roode would make his NXT debut next week as well.
Regal could make a ludicrously qualified new number one contender and put them in a high-profile match for Orlando's biggest, best and shiniest prize about as easily as Leonardo DiCaprio could get a supermodel between the sheets at this point, and you don't have to be as smart as Joe to realize this. Clearly outgunned, Joe was left back to being a subsidiary of Morton's and threatened to do to Nakamura what he did to Zayn and Bálor, maybe even before the 20th. Swagsuke's response was to come out onto the ramp, dance, and leave. A man who helped redefine cool against a man who ran so hot it took him first through an alignment change and then secondarily and most importantly to the peak of NXT's K2. They didn't have to pound the "This is a dream match!" gong every 4 seconds; it just is. And apparently, this is the first (and best) time for it, because 2016 wrestling-wise especially when you drink from the well of Stamford Kool-Aid? It's like doing a speedball with LSD and injecting it straight into your eyeball.
But still: the work at doing the thing is, for the most part, done. And all of us NXT fans are only three short weeks away from yelling Huzzah! before going oh, crap.