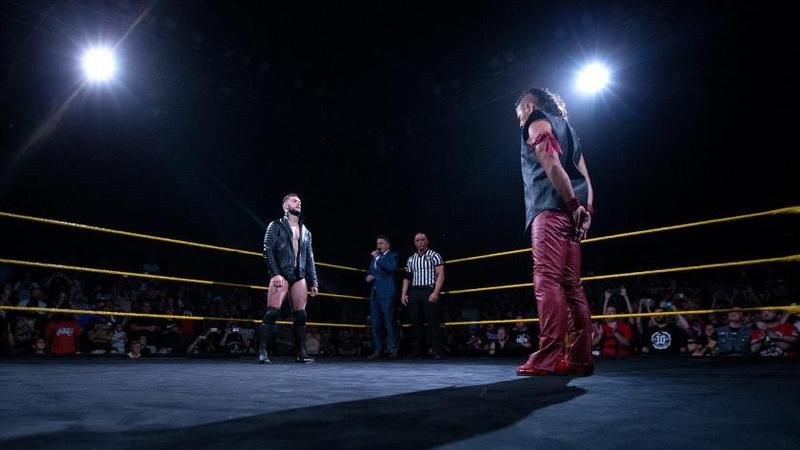 The hierarchy held, with a hitch
Photo Credit: WWE.com
You could make the argument that out of the all the Elmore Leonard film adaptations, the title above's the best of the lot.
Think about it. What's missing from it? It's a deftly walked tightrope of violence and humor. Don Cheadle and Steve Zahn elevate banter to another level, like you can't help yourself from eavesdropping on an engrossing conversation the next bar stool or table over. It's probably got Jennifer Lopez
and
George Clooney at their sexiest, which is really saying something. Their sexual tension is so palpable and yet barely affected that they might be in the sexiest sex scene that doesn't have any actual sex in it. (That sentence makes sense to anyone who's seen the film. Trust us.)
Out of Sight
, as you may have discerned, is a damn good movie. But what makes it something of a white flamingo is the fact that it's one of those movies you wouldn't necessarily give five stars, yet when you look back on it and try to pick out a thing you would add or omit, you come up short of what would elevate it to rarefied air. Anyways, for all intents and purposes the film ends when Lopez betrays her cop nature and doesn't kill a robbing Clooney when she has the chance, but rather discharges a round into his kneecap as a sort of vicious placeholder until her backup arrives. She's very apologetic, almost docile, to her paramour as their time winds down to a close (and without getting overly whiny Clooney somehow finds a PG-13 to complain about his knee getting imploded).
It's safe to say Shinsuke Nakamura, for obvious reasons, has probably never seen
Out of Sight.
George Clooney? Say what you will about the man, but he knew how to sell knee destruction. As for the King of Strong Style? In the Big Fight Feel match against Finn Bálor in the latter's probable NXT swan song, when he came to hold the offensive baton he couldn't hold a candle to the former Sexiest Man Alive. And the fact that he failed sporadically at doing so took a bit of mph off of the heater WWE was hoping to throw with the first time ever Stateside meeting between a Prince and a King. No mere match, this, as they were way too exuberantly informing us leading up to the bout itself.
This was going to supersede being a mortal match. This was going to be An Event. It'd justify the tenner a month all on its own, and besides WrestleMania 36, who knew when the possibility of these two tangling would reassert itself? So with enough hype to fuel a Rawley for a four-day weekend in front of a crowd who's positive energy could've been an alternative fuel source, they brought down the lights like they were going to war over a championship. They even had Smilin' Drake Wuertz sport the zebra stripes.
And the once and current friends Finnsuke exploded over the course of the back half of the show for a trioka of segments.
It may've been cinematic at moments, but the closest analogue, appropriately, is something else that just occurred in front of a spate of rabid Full Sailors, Takeover: the End is the Beginning is the End (or whatever it was called at the 11th hour). Akin to that last two hour special, it was just superlative instead of orgasmic, and in plenty of circles outside of this one you'll find plenty of people making the argument that really very is the lesser of two goods. It isn't as if the match was damaged at all by being fait accompli; hell, you could argue until he faces Joe in Brooklyn (baseless suspicion, baseless suspicion based on probabilities and burgeoning bottom lines, but still, baseless suspicion) the fact Nakamura was going to eventually knee whoever stood across from him's face off at match's end was an oft-welcomed well that other matches have the King wouldn't be able to draw from. Finn did some of his best work playing subtle heel here calling back to mind some of the matches he's had in the past year against the likes of Rich Swann and possibly Neville, depending on one's taste on the alignment lines for that one. He even did something different both out of his lane offensively and for anyone against The King of Strong Style in NXT to date by focusing on the leg.
It should be said that Nakamura's wonky selling just above there may have downgraded this match from Great to great, and it might've been a little jarring like if the Mona Lisa smiled to reveal a missing front tooth. But that out of the way, this was still two of the best wrestlers in the world putting on a far above average match, and on a Wednesday cram packed of 180 minutes of wrestling it was these 25 or so that shone the brightest. In fact, the biggest detriment to be leveled against it is quite possibly the whole idea of greatness vs. Greatness. Nakamura's debut vaulted to the MOTYC list for most, and for many hasn't left. Ricochet/Will Osperay wasn't everybody's sip of bourbon, no matter who's time it is, but by the end and thanks to viral technology, it was clear that when the Future of Flight had met the Aerial Assassin that they'd turned it into An Event. You might even argue that the Revival/Alpha contretemps this year in both the title switch at Takeover and the best of 3 falls rematch that occurred last week were better matches than what we ended up with here.
Ho-hum. Just a ridiculously high quality wrestling match that had to compete against six other high profile ones on TV that very night and won convincingly. After all, people didn't show up and show out to see Rhyno get in Samoa Joe's face and see the holder of the Big X pretty much laugh him off and then threaten to add him to his body count next week. They came to hail the King. They came to pay their last respects to a Prince.
And micromentally flawed as it may have been? On a macro level, it was still a fine Leonard film adaptation.