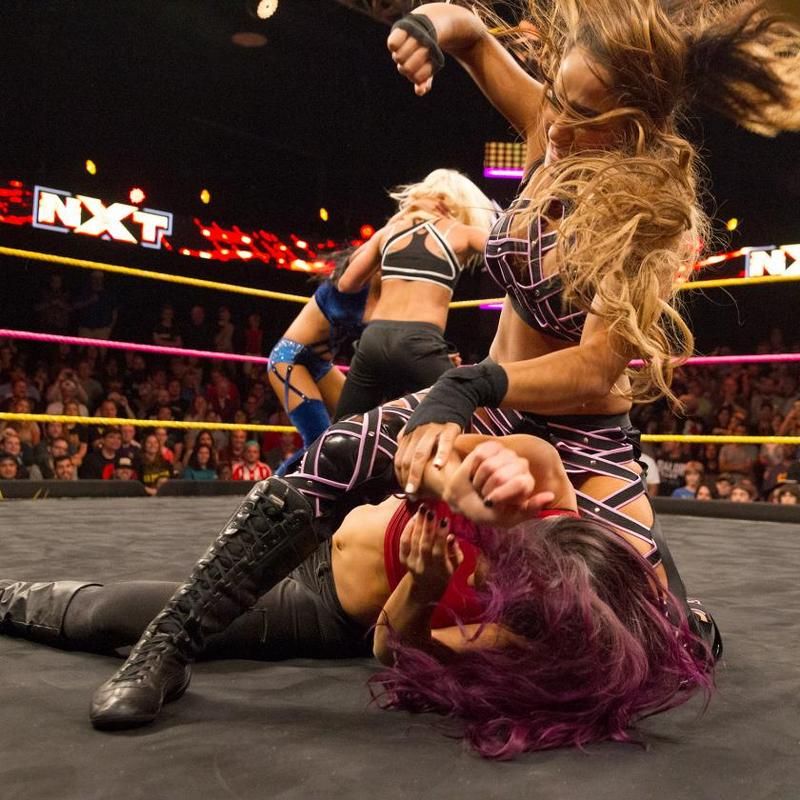 Team Australia was in a hootenanny this week
Photo Credit: WWE.com
Five years ago, Donald Glover might've said the final episode of NXT's October 2016 should've been brought to the plugged in by
Kix
. But you didn't have to be that left of the dial to tell a soul that it was really defined by a bunch of replacements, especially in the final third of the show which highlighted some variously palatable options that only materialized as possible Plan Bs, at best.
It was most glaringly on display during the main event, a perfectly cromulent closer to the first round of the Dusty Classic that saw Lince Dorado and Mustafa Ali's dyad fail so that the even more so staplegunned unit of Kota Ibushi and TJ Perkins could succeed. Originally the team going over was to consist of Ibushi and Hideo Itami, a dream team that could possibly get six stars out of five. But a sudden injury to the snakebit former KENTA meant that was scuttled, and Perkins was inserted into his place. It's not TJP's fault that he's a level at bare minimum down from Itami, and to be fair presentation tried Very, Very Hard to sew two drumsticks to a thigh and call it the Big Piece of Chicken. A short backstage interview hyped up the idea of respect being forged through the Cruiserweight Classic and the idea of good rivals making a greater sum of their parts, but... you know what we really wanted.
Speaking of which, during the main the commentary was trying to get over how careful Perkins had to be since he was facing THE Brian Kendrick on Sunday at Hell in the Cell since he was set to defend the Cruiserweight Championship he'd won in that very building yet didn't come out with. It could've been better in so many ways: narrative continuity on a show where that sort of thing is a bedrock, more foreboding competition than a fellow babyface and the fourth most important man in the match opting for True Neutral instead of the Neutral Evil he'd employed during his CWC work. Leaving aside the fact that this'd been taped some time ago so the threat of injury was almost completely neutralized since this made air cleanly, his teaming with the Golden Star was like having Beyonce opening for Kelly Rowland, even worse, Ibushi was relegated to noticeable second banana status and merely got in a few kicks and the triangle moonsault; he didn't even get to win the match but he did get to learn how to dab from TJP after it.
And we're supposed to take them as a pair as a threat to SANitY next week because--well, you be me for a while and I'll be you there. As there's been for almost two months now, there was nothing to dissuade people of the notion that TJP got this position simply because Ibushi and/or Zach Sabre, Jr. were fine merely sipping the Stamford Kool-Aid without making it the entirety of their diets. And there was no instant classic in the offering to stem the tide of neutering that spending the past few weeks on Monday nights has managed to circumsize all the goodwill and momentum that the original tournament had built up over the summer.
Less drastically than that was the cannon fodder for Asuka to be served up for the upcoming Takeover in Toronto. Scuttlebutt, now since virtually verified, had another dream scenario in which the woman to make a solid run at the Empress of Tomorrow before experiencing Death By Asuka was to be Trish Stratus. But the Hall of Famer got pregnant (mazel tov) and so ironically enough after Asuka didn't even break a sweat dispatching ex-TNAer Thea Trinidad, Master Regal himself unveiled Plan B, another ex-TNAer but also former WWE Women's Champion and Stratus' ally turned enemy turned ally, Mickie James. The crowd and Asuka were psyched to see she'd survived James Storm's murder by subway attempt, and she threatened to turn T-Dot into an international incident, but a)...you know what we really wanted and b) Asuka would be a PUSH against God right now if the match were being held at the Pearly Gates and assuming such a thing existed. Mickie James threatening Asuka when we're weeks away from 2017 isn't a mismatch of Strowman/Ellsworthian proportion, but considering the fact commentary was playing up Asuka's year-long no hitter, she will be entering their upcoming post-Toronto trip to Japan and the new year as eradicator of divisional opposition and proud holder of the NXT World Women's Championship.
It also helps out the former Most Dangerous that given the option of facing her or falling into infighting, four of her possible challengers have opted for the latter. In fact, she set that in stone by eviscerating Liv Morgan in an eyeblink a few weeks back. Liv as a result got picked on and laid out by the emerging Aussie BFFs Peyton Royce Billie Kay in consecutive weeks. Aliyah seemed to be out to serve as mere cannon fodder for the cannon fodder of BK, only to see in a hilarious inversion of trope Liv show up out of nowhere and start laying waste to Royce thus providing the opening Aliyah needed to roll up Billie Kay for her first televised win. This didn't go without some post-match enmity, as she then helped out Morgan in an ultimately futile attempt to fend off Team Australia that saw both of them getting laid out by the black hats. It must not have felt good, but better than Asuka using your head as a kicking bag, right?
Outside of Bobby Roode jumping a victorious Tye Dillinger from behind and laying him out with an Impaler DDT on the ramp, the other event of note kicked off the evening. Tian Bing made his NXT debut and as such went down in WWE annals as the first Chinese superstar under Stamford employ. Paired with Hoho Lun in a losing first round effort against Tomasso Ciampa and Johnny Gargano hashbrown do it yourself, he still managed to make his limited ring time look good and showed a lot of promise for the future.
As long as he doesn't get injured or pregnant, the sky's probably the limit. But those are alternate universes to get into another time.