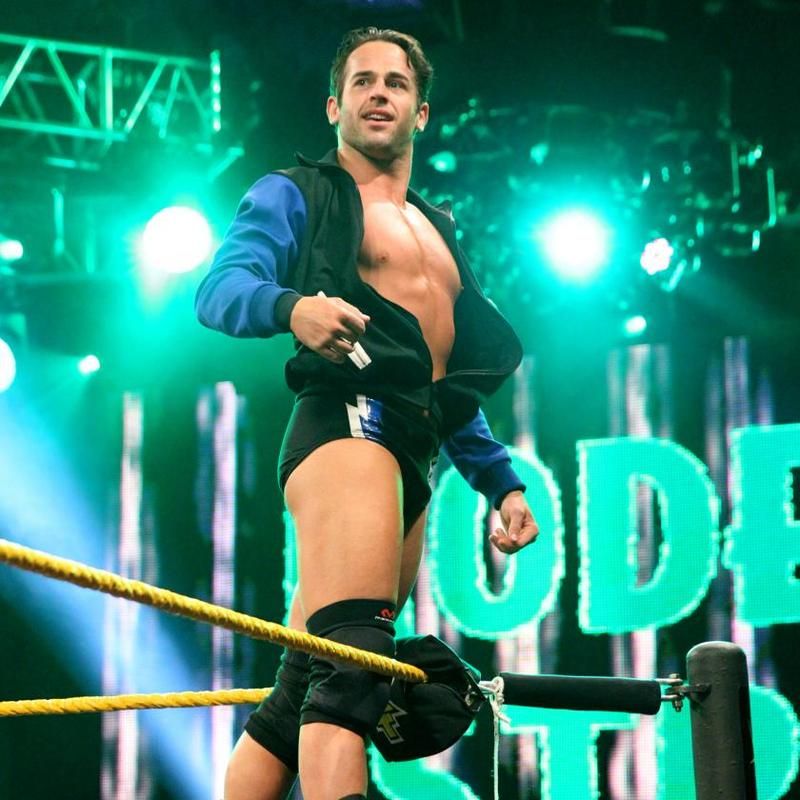 The Greatest Partner That Ever Tagged
Photo Credit: WWE.com
Having violently awoken from its post-Brooklyn slumber, NXT heads to their Takeover in Toronto next month with wheels humming in bifurcated purpose. On the lesser track this week was the continuing build to the inevitable Shinsuke Nakamura/Samoa Joe rematch for the Big X, with the dearly unbeloved Patrick Clark fated not to get through this thing called Kinshasa whilst Joe seethed from the ramp. But really driving the engine in Full Sail is the second annual Dusty Classic, and as with last year's inaugural the fallout from these alliances and implosions of same is being felt for weeks and maybe months to come.
A couple weeks ago Andrade Almas embraced his ungovernable nature and donned the black hat by whomping on his partner Cedric Alexander. After a brief segment last week hinting at the shape of Idolo things to come we got a more fully fleshed out iteration of this, initially aided along by the Cathy Kelly Who Speaks Spanish translating to the fans that while he'd humbled himself and divested himself of his mask in order to join the signature imprint in North America, and that respect hasn't been reciprocated. You don't even have to have a long-term memory to note how much more beloved the Queen City's Favorite Son was than him a fortnight ago, but if you do you can go back to him almost being the seed for Tye Dillinger's joining the side of the angels or being completely subsumed in a Glorious debut. But he was done with begging for respect, the same way he was done needing a translator to get his Aretha Franklin on in English to the presumably culpable NXT viewer. A small but favorable distinction laid there: he's not a prick because he speaks Spanish, but rather one that
does
speak Spanish and is perfectly fine making people wait to understand his points since they'll be backed up in the future by more Ingobernable actions.
But back to Dillinger, who ended being the Alexander to Bobby Roode's Cien last week in the face of the debut of SANitY (more about which imminently). This week he shrugged off the doctor's checking on him post-assault, and after Bobby Roode had gotten done dispatching Sean Maluta and began to turn to running him down, the man from the other side of Niagra Falls got to enjoy his most triumphant moment as a goody-goody by using southpaw grammar to clear the ring of the Glorious One. As a matter of fact, besides the rematch for the NXT World Championship and the finals of the Dusty Classic, the only other thing set already for the card is the implosion of Glorious Ten.
Those Xeroxed beefs played well and set up the stage for this week's Dusty Classic wherein the outcomes weren't in doubt but outside factors added a bit of heft and impact to the proceedings.
Take for example the two-segger opener wherein No Way Swann defeated RAW's evil cruiserweight underlings Drew Gulak and Tony Nese. Mr. Jose and the homie Rich Swann had Full Sail moving and grooving right in the palms of their hands for about 10 minutes and while Drew and Tony did their best the outcome was never in doubt and more of a backdrop for the Full Sailors to alternate the catchphrases of their favorites. Jose polished off Gulak, the crowd was all set to rehit their Dougie, and then they announced that they were facing the Authors of Pain in the next round and the mere mention of Faulkner and Hemingway made the crowd buzz and groan sadly. Apparently the only two people who don't know they just punched a business class ticket for their future demises were Swann and Jose themselves, and though the crowd was more than willing to sing along with their signatures once again it wasn't quite as loud as it had been previously. Then again, if you're overtly worried for the J and R Dance Party there's always excesivo castigo (something that would happen later on in the show and actually lead to Nikki Cross first winning and then losing her SAnitY debut due to a reverse decision, a possible NXT first).
The other first round saw the unit as Team Aries finally revealed itself in totality. Going into the tournament and especially after the incident last week it was speculated that maybe this would be the vehicle to get the Dirty Heels together, as Aries would have himself a Glorious partner with past championship winning history and Roode would finally have a partner as, well, for lack of a better term, vainglorious as he. But it turns out people casting a backward eye didn't load the Wayback Machine far enough, as Aries unveiled Roderick Strong as his second and Generation NXT, ArieStrong, whatever candies your bacon went on to a win over Tucker Knight and the debuting Otis Dozovic. Big Tuck at least has a purpose now going forward and showed off some athleticism, while Otis (our man) came out looking like the progeny of One Man Gang and definitely ended up giving off some Baby Vader vibes. With some build and support NXT either engineered or stumbled onto possible physical alignment flipped counterpoints to the Authors with their own massive girth and unexpected agility with their offense. ArieStrong eventually buried them under an avalanche of signatures to get the duke and set up a very tantalizing second round match against TM61, which should answer the question "Can something be sneaky good if everybody thinks it's going to be sneaky good?"
Add to this Billie Kay and Peyton Royce laying out Liv Morgan yet again before daring to utter Asuka's name, and it's more evident than ever that the signposts are falling behind at a rapid rate, the odometer continues to tick up, and that the fireworks factory of TakeOh, Canada! is just starting to come into view.