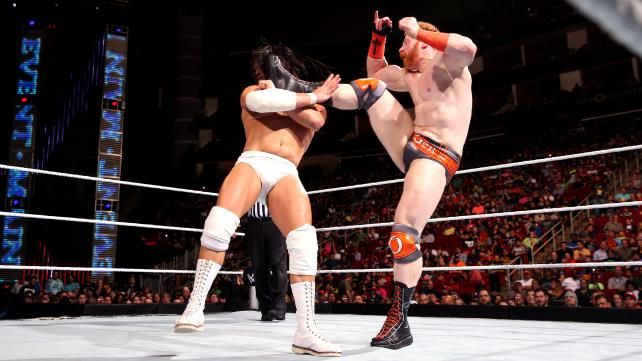 Yeah, he does that
Photo Credit: WWE.com
If you were to sum up the final October Main Event of 2014, you could do so easily in three words: so that happened.

It wasn't that anything horrible like last week's Game Show Ripoff Segment That Shall Not Be Named took place, or that there was a stealth two-segger TV MOTY candidate lying in wait somewhere along the course of this hour. Some episodes you get the feeling this is called Main Event because calling it the Perfectly Cromulent Wrestling Hour doesn't really have pizazz as a sellable name to audiences. (Plus, how would you fit all that on the bars next to and hanging over the TitanTron?) Yet, ironically enough, that is Main Event's primary directive especially in a Networkified era for Stamford's McMahons and associates. Even if nothing lasts about the show moments after you're done watching it, the sense of having watched some pro graps without facepalming can serve as its own form of comfort food.