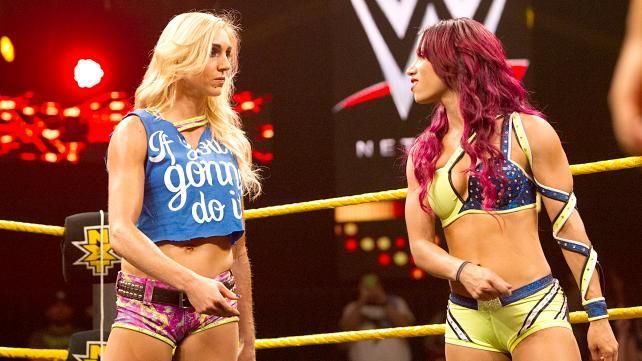 Not pictured: Summer Rae
Photo Credit: WWE.com
You don't need to have the moral surety of an Ehrmantraut to not believe in the half measure. Better, as usual, to believe the words of the esteemed law firm of Bowie and Mercury who once talked about sitting on a fence and it not working. Too much is a deluge and too little is a drought, to be sure. But if that's true, it's generally better to go one way or the other lest you leave a customer with a rumbling stomach like they tried to turn an appetizer into a meal.
So it went for the first NXT episode of the Bálor Epoch, as the hole in the donut of the show was a mere partial replay of the new Champ overcoming Kevin Owens Saturday in Tokyo in order to become the latest to add his name to the short list of elite competitors who've been able to hoist the Big X overhead. Too short to be a full replay of the Match of the Year candidate but too long to be a jejune video package, it sucked up a lot of the oxygen that featured a not wholly unsurprising yet still pleasing one night only reunion (seen above) and a number one contendership tag title main event.
For those who've got the Network and seen the title change in the days before the show, it's content. Granted, fine content, but probably already consumed. Why settle for Van de Kamp's when you want fresh salmon? Trying to enjoy something with the unique atmosphere and pathos of what happened at Beast in the East is like having ABC Family do a promo for
Batman Begins
or trying to watch
Goodfellas
on Lifetime; you may get a gist of what happens, but the genuine article is so exemplary it's worth seeking out on its own.
For those who didn't see the match live and this was their first look at NXT World Champion Finn Bálor, firstly: how did you avoid spoilers for half a week? Share your ways with the rest of us. It's the sporting thing to do. Secondarily, even without it being a Takeover Main Event the way the last handful of title changes have been this is a seminal, pivotal moment in NXT's annals. It deserves the big moment, to fill up the patron on how great the match was and how the ambiance from performing overseas affected the bout itself and the 180 degree difference it made having that match there versus it being put out in front of the Full Sailors. (In addition to establishing it as a World Championship, it was the first time the
La Equis Grande
had changed hands outside of Orlando.)
It's understandable if the controlling interests didn't want to turn this into a full-out and probably show-long replay since for the sort of long-term addicts that make up the NXT base it would conjure memories of WCW botching pay-per-view times, if not the exemplary one-off championship match borderline Broadway Wednesday night competitor Lucha Underground put on not a few weeks ago. And yet it seems in debating whether to bake it or turn it into fries they made a hash out of things by not giving up enough substance to the usual diners and not putting enough on the plate for any newcomers to make this a destination stop and an automatic place to default to the next time they get the rumbly tummy. Most jarringly, this co-existed with new matches from Full Sail that because of the different purposes served inherently felt like lesser offerings instead of the gateways to a pair of title matches that needed the air to show off that all belts in NXTville are important and not just the big one.
So, let's commence.
As certain corners hinted last week, the idea of the Boss being at a loss was something only believable in the heads of the recently evil and a mildly malfunctioning DanaBot 5000. While Sasha Banks loudly was set to go in against Dana Brooke and Emma all on her own, her...well, whatever you call somebody with their history but for the purposes of the current day we'll refer to as "business partner" and woman she pinned for the belt back in February Charlotte sauntered out and said for the price of a favor to be determined, she'd be her huckleberry and help put a simmer to the beef that Emma and especially Brooke have had with her recently.
The one night only BFF reunion had the black hats discombobulated from the opener's outset, and despite a brief ray of light for them it ended with both of them locked in submission finishers before stumbling off to lick their wounds. Business time over, Charlotte came for the pleasure and the reason that she did a former arch-rival the favor of not putting a knife in her back or her front: a title match on next week's program. The Boss being who she is, there was a brief tease of leaving her hanging, but she eventually took her up on the offer. Assuming Emma and Brooke's revenge doesn't come via ruining what'll be another good match in the series of them Flair and Banks have put on for the better part of the year, watching a newly minted and mildly respectable Banks take on her ex-boss is going to be appointment television. As their battles have continued onward into 2015 and usually with the belt in the balance, they've gotten more and more time to the point where they're putting on borderline 20-minute-per-occasion classics with counters upon counters and callbacks to previous matches betwixt them.
While Charlotte's
quid pro quo
pays off in a matter of days, it's as of yet undetermined as to when the new number one contenders to the Dubstep Cowboys and Mama Bliss' Baby Girl are going to step up and take their shot at the titles. However, whenever the opportunity becomes official, it's not difficult to predict that both Aiden English and Simon Gotch will be bringing some manly goodness to their side of their ledger in order to try and secure their first title reign.
In a mild upset, even moreso considering the recent announcement that the next Takeover was coming from Brooklyn in a matter of weeks, the Vaudevillains narrowly upended the Bridge and Tunnel Cassady/Amore unit in the main event to earn their title shot. In continuing with the underlying theme of Amore and Big Cass this year, the former continues to improve by leaps and bounds as we get closer to *gulp* 2016: he hung in early and went hold for hold with Simon Gotch when he wasn't taking the intermittent running over. In fact, he even briefly fended off a double-team attempt by the retro lovers off of a blind tag going into the evening's final break. However, the Vaudies did what every other team that's managed to succeed against the Bridge and Tunnel Boys have on their way to victories -- beat the crap out of Amore, weather the storm that Cass brings, and keep them from firing the latter day Rocket Launcher. Your mileage may vary on what was more shocking: the fact a match ended with a rollthrough off of a top-rope crossbody in 2015, or that Aiden didn't even cheat when he did so to keep Enzo down for the three-count. Most depressingly for the duo is that Chad Gable
finally
broke through to Jason Jordan elsewhere in the program, so if either of them were going to use him as the emergency partner in case of broken glass, as ready as he might be he's probably no longer willing.
Gable's fulfillment of his dream culminates this week. For everybody hoping to catch another glimpse of another MOTYC wearing an NXT title match cloak or to see an epic celebration put on by everybody's favorite Lego enthusiast, this week is a meal is a predicate built on (and around) a lack.