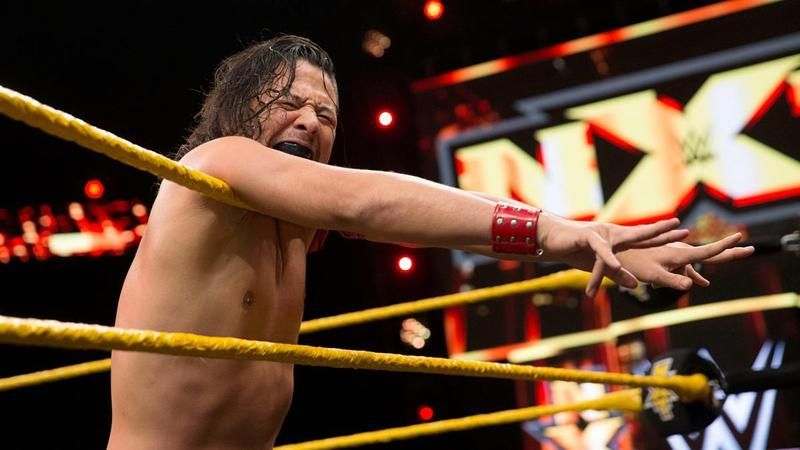 This is N(akamura)XT!
Photo Credit: WWE.com
Tye Dillinger made an opportunity for himself in the main event with an eye rake, then he took it. It was an actually super kick, a thrust shot right to the jaw that looked great, sounded better, and most importantly flattened Shinsuke Nakamura.
It got him a one-count.
You can probably surmise the rest from there even if only in outline form. He was a living embodiment of a Vampire Weekend song, a kid that didn't stand a chance against a grown-ass man, the court jester daring to step to the king in his court. As Tom Phillips and Corey Graves quickly bantered while the dismantling occurred:
"How do you say 'come at me, bro!' in Japanese?"
"Nakamura."
It's one thing to be a good wrestler, it's another thing to be great, and it's entirely something else when you're so good Phillips repeatedly chuckles while you're doing your thing as if you're an awesome gift he can't believe is now in his life on a regular basis or an ATM exploding and making it rain cash, or any other dream scenario your mind can conjure up. Except this is demonstrably real, and the fact that Nakamura is a game changer not only meant he was main eventing the first post Takeover: Dallas episode of NXT but that as "10" as the Canadian is, the crowd was quick to rebut with a wholly accurate rejoinder: "He's 11!" It wasn't the faitest of accompli in NXT's history, but it was never in doubt, either.
In fact, his arrival is so seismic that the resident NXT World Champion said he'd be watching the match and since it was his duty, obligation and honor to defend the Big X against anybody anywhere anytime that when Nakamura wanted a crack at it, it was his.
Um,
now?!
What about
now?!
Or
now?!?
Does that work for everybody, the
NOW
-ness of it all? The prospect of Nakamura/Finn for the title is the sort of thing that turns even the most jaded of fans into a Colbert reaction gif.
Those reactions are just more overblown iterations of the one Tommaso Ciampa had when he successfully tapped out Simon Gotch earlier in the hour's best match, meaning that he and Johnny Wrestling Gargano had just beaten the Vaudevillians. On another show this could've gone another Dillinger easy, but it was still good while we got it and it came with the slightly shocking clean ending to boot. After all, it was noted by the Kings of Commentary about the Vaudies' recent elevation to the main roster as well as their insertion into the number one tag team contendership tournament over yonder. But Team Indie, for lack of a better term, got to show off tandem offense as well as their own bona fides as a unit (the kind talented enough to advance in the Dusty Classic, lest we forget) on their way to the victory. With American Alpha facing the also recently departed to Mondays Enzo Amore and Big Cass next week, we are definitely looking at a change of the guard in the tag division. Could Ciamps and Gargs end up helming it before the year's end? There are harder things to conceive.
Like Bayley picking up a mic and ethering the crowd before piefacing Izzy on the way out, for example. In sharp contrast to Alexa Bliss' earlier victory over Tessa Blanchard, the perpetual happy warrior came out and bonded with the fans in her usual manner before making short work of Liv Morgan. It was odd seeing her without the title, something the KOC noted in a few ways multiple times even in a showcase match like this. Post-match Bayley gave her dethroner kudos and then cut a pretty cliche-laden speech that she made work because this is NXT and she's Bayley. Just further proof of the Draper/Campbell Corollary in action while she talked about a champion getting back up more times then they get knocked down and standing for the people who stood by her -- eyes would roll so hard across the Intertubes if John Cena gave this speech that if they were able to be used for an alternative energy source the price of gas would drop to $0.73 a gallon -- but she made it work and, yes, did hug Izzy on her way out.
It was a fine moment and maybe the best character work on a really good show, but it probably won't be the one that the episode will be remembered for. Tragically for Austin Aries, it won't even be his own hourly debut that kicked off the program and Roaring Elbowing Angelo Dawkins so hard it almost knocked off his MVP cosplay completely.
It'll be the King of NXT's ring, swaggering into the spotlight he owns and combining comedy with an underpinning sense of viciousness.
You know, the sort of thing that makes fans rewind and even the most lawful neutral announcers chuckle repeatedly and with good reason.