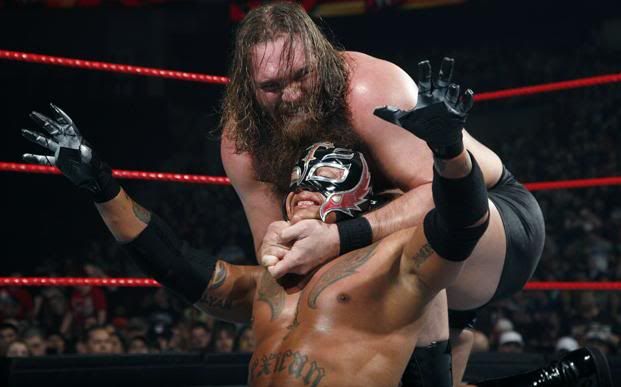 Welcome to this week's QandAPalooza, where the main focus shall be on awesome facial hair and whether it would be good for TNA to show boobies on PPV (answer, it most definitely would). Let's get started:
First, we have a bevy of questions from
Ryan Strawsma
concerning Mike Knox, his lustruous hobo beard and the greatness of said hobo beard:
1) What will Mike Knox do now that he's been released from WWE?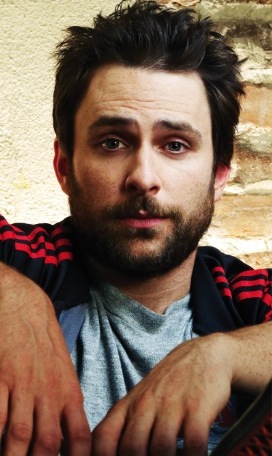 "What's your bean situation? You holdin'?
In all seriousness though, I'd expect Knox to land in TNA if I didn't really believe that TNA was secretly hemhorraging money with the doubling of the roster without an increase in gates, ratings (and thus ad rates) or buyrates. The hopeful answer is that he finds a steady gig with Ring of Honor, as there are a ton of great matches that an athletic big guy like himself could have with any number of their roster, including a dream Beard vs. Beard match against Necro Butcher.
After the jump...
2) How could they have done Mike Knox better?

In much the same way that everyone suffers because the WWE's midcard is almost non-existent, Knox would have benefitted from feasting on midfaces, getting wins, looking dominant and then segueing into feuds with Kane and Big Show where he actually won and looked credible. I love Sheamus and think he's part of the future of the company, long-term, but I can't help but wonder if Knox would have been just as over if not moreso than the big ginger Irishman had he been given that push.

The sad part is, Knox got the ax at the absolute wrong time, because he would have fit PERFECTLY on the new Smackdown. That's the kind of brand that would have been conducive for him to get his mojo working.

3) Who's next to get the axe?

Hard to say. You'd think the worst is over, seeing as they've cleared off a good bit of roster space for the incoming NXT rookies once that season finishes up. However, I wouldn't be absolutely shocked to see either one of the Colon Bros. heads migrate to the chopping block. Same with Matt Hardy.

4) If Mike Knox's beard and Chuck Norris' beard got in a fight, which would win?

Hard to say. I'd go with Chuck Norris though, just because Mike Knox doesn't have a website with facts named after him... yet.

5) If you could book Mike Knox in a beard vs. beard match with ANY wrestler, living or dead, who would it be and who would win?

Bruiser Brody, and Knox would win in a torch-passing moment.

Batista is the #1 Contender and will face John Cena for the WWE Title. Again. Good move or bad? And if the latter, what would have been a more suitable alternative?

KofACW (FW/PTC Poster)

It's a good move. While I hate the dragging on of feuds for 3 or more PPVs at a time with no break, this is strongly rumored to be Batista's last run with the company before he retires to try and act. I've been critical of the big guy before, even to the point where I questioned why he was rewarded with a title win after getting hurt rather than getting jettisoned like Mr. Kennedy for similar offenses. However, taking a more objective look at things, Batista has meant a lot to the WWE for the better part of a decade, and sending him out in a title match is okay by me.

Blog charter commenter and follower KoppoKick with the next few questions:

1) Should TNA push female nudity on its pay per views as a way to attract impulsive buyers or do you think the negative fallout would offset any sudden financial gain from such a publicity stunt?

That's a good question that I don't know if I have an objective answer for. The thing is, TNA is trying so hard to push itself as the noveau-Attitude company, and God bless them, they're at least trying (although at times, it's coming out as a low-quality carbon copy of what the WWF did from 1997 through early 2000). I don't know if the female nudity would help or hurt, but here are two arguments for them showing dem tittays on PPV:

1 - It's on PPV, so it's not readily available to the genpop.

2 - Have you seen most of the TNA Knockout roster? With the exception of ODB, whose breasts wouldn't you want to see?

But then again, I'm a young male adult, so of course I'm gonna be all over that.

2) Should Spike and TNA agree to move Impact back to Thursdays from 9 to 11 and only venture onto Monday nights a handful of times each year(think Clash of Champions) when Raw may be most vulnerable (i.e. not the night following WM nor The Draft.....but say on a night Raw is set to be tape delayed by a few hours because the Raw crew is in the UK or during a "go home" show when Raw seems to be its most predictable)?

After seeing the ratings from this past Monday, the knee-jerk reaction is "yes, yes, GOD YES". However, are Thursday nights really that much better? Sure, they have a night all to themselves, but they also have to compete with NBC's Thursday night lineup, with It's Always Sunny in Philadelphia on FX, Fringe and Bones on Fox, and for the sci-fi geeks who also watch wrestling and those men who are absolutely whipped by their women, ABC's lineup including Flash Forward and those two femme-bait shows that make me ill just mentioning the names. Plus, Thursday night has unofficially become the new Friday night, where college age and twentysomething adults go out and live it up. That's the kind of audience that TNA is trying to attract with the TV-14 show.

They're sort of in a Catch-22 situation. Monday is clearly the better night for wrestling television, but then they're not nearly established enough in the mainstream to take needed viewers away from RAW when they go 3 hours. Two weeks ago, they had the perfect storm of things going for them. This week... they went against The Draft. Each week is going to be different, and honestly, the instability makes it nearly impossible to predict what the best plan would be. Right now, if I were TNA, I'd stick with Monday nights at least until the next commercial-free RAW (because you know they're going to get absolutely murdered that night). Then, maybe I'd go to the network, tell them to put up some special that "conveniently" pre-empts Impact and move it back to Thursdays for one week only to see how it does.

3) Bound For Glory....in the heart of New York City in October....for better or for worse, are you there?

If TNA ropes me in, then yes, I might just organize a road trip. But that's the key. They gotta keep me roped in.

How low will TNA's ratings sink before they abandon Monday nights?

Chus Killalea

I think that if they do 0.5 with an unopposed first hour, then they should probably start reconsidering the move.

.5 ?

Brian Kelly

Don't worry, man. They're selling those "Nasty. I Am." T-shirts like hotcakes, even though the Nasties have been out of TNA for a month. They're making money!

Four months into the year who are the top five guys in the WWE in the ring? Is there a single guy in TNA who would make your top twenty?

Dylan Hales

That's a good question. It's funny because my #1 from last year, Christian, and my indie darling placer, Bryan Danielson/Daniel Bryan, probably wouldn't make my top five as of right now. Just off the top of my head, I'd go CM Punk, Rey Mysterio, Evan Bourne, Batista and Sheamus with John Cena, Chris Jericho, Goldust, Christian, The Miz and Randy Orton all close enough that they could make a jump if you're just talking WWE. I know you didn't ask, but if I was considering every fed I follow, Mike Quackenbush might just make the top five overall and Claudio Castagnoli, Kevin Steen, Pinkie Sanchez (!), Hallowicked and even Daisuke Sekimoto (despite his only stateside appearances being those three KoT matches) get some consideration as well.

As for any TNA guys making the top 20, AJ Styles and Kurt Angle are two that might crack that barrier. Kazarian has had a few good matches since coming back sans-mask as well. I'd say Daniels too *ducks garbage from Dylan*, but if he does, it'll be on the strength of his Chikara/ROH work unless that rumor of him going back to TNA on a paid-per-appearance basis is correct. TNA has actually gotten a lot better this year since Hogan took over, although they still have a long way to go in reshaping their philosophy re: free TV matches.

Next up, Blog commenter and ChikaraFans regular Friskey with some queries:

1) Your thoughts on the WWE Spring Cleaning '10 and what do you think is going to happen of the endeavours?

The only two I'm really broken up about are Mickie James and Mike Knox. Shelton has bored me for the longest time now, the two Japanese releases are rarely seen on TV anymore, and Katie Lea, though underratedly hot, never made me care enough for her as a character to be sad that she's gone. I already outlined what I think will happen to Knox, but the others... I can definitely see TNA trying to snap up Mickie and Shelton (with Charlie Haas). Katie Lea will probably go back to SHIMMER, where she'll actually be in her element. I can see Jimmy Wang Yang surfing the indies, and I think Funaki will probably retire back to Japan, since I've heard he's got a nagging neck injury.

2) Seeing the results of King of Trios, what's your take on how you think the shows went?

I thought the results went swimmingly, actually.

3) What's the better wrestling movie? No Holds Barred or Ready to Rumble?

Can't say I've seen either one of them all the way through, but R2R sounds like a movie that would be more up my alley because of the comedy.

Two questions from jharper of Chikara101:

1) From the Golden Age of All Japan Pro Wrestling (from Misawa dropping the Tiger Mask persona to Giant Baba's death) who do you think was the best wrestler in the promotion, either native or gaijin?

It's a toss-up for me between Mitsuharu Misawa and Kenta Kobashi. Both guys were not only influential in Japan, but over here too.

2) How do you think Mitsuharu Misawa would have faired if he had toured the U.S. in his prime, the way the Great Muta did?

I'm not sure. Muta had a mystic, Eastern gimmick going for him as well as the high-flying moves and the ultimate heel tactic in the poison mist. He was tailor-made for American audiences. Misawa probably wouldn't have gotten as over as Muta did, even if he kept the Tiger Mask on. But then again, I may be underestimating the WCW/Southern crowd's aptitude for appreciating a guy for his in-ring aptitude rather than just the gimmick.

General thoughts of AWA 1990?

shinedown (Chikara101 Poster)

Sadly, I never got into the AWA, and in 1990, the only two promotions that existed to me, a youngster just realizing his wrestling fandom, were the WWF and NWA/WCW.

How do you feel about heel refs? Reading about Sabato's return to Chikara as a heel ref was demoralizing.

Anonymous Blog Commenter #1

It's a case-by-case basis, although I don't like them in general. With Sabato, I think it works now because the angle needed a way for the BDK to become dominant again through whatever means necessary. I'm willing to give it a shot because to me, Chikara has a great track record.

Hottest indy female wrestler? And for the gay community, hottest male wrestler besides AJ Styles?

Anonymous Blog Commenter #2

Indie female wrestler is easy - Rayna Von Tosh:




Male wrestler? Well, luckily for you, I'm secure enough in my masculinity and heterosexuality to give you an answer on this, and I'll tell you that if I were a woman or a gay man, I'd probably have to go for the boyish good looks and clean-cut but not steroidy build of one Roderick Strong. No pics though.
Mike Knox and Rey Mysterio Photo Credit: WWE.com

Rayna von Tosh Photo Credit: Scott Finkelstein - Please visit his site to view the plentiful amounts of pictures he's taken for DGUSA, ROH and other indie feds: Get Lost Photography

Remember you can contact TH and ask him questions about wrestling, life or anything else. Please refer to this post for contact information. He always takes questions!