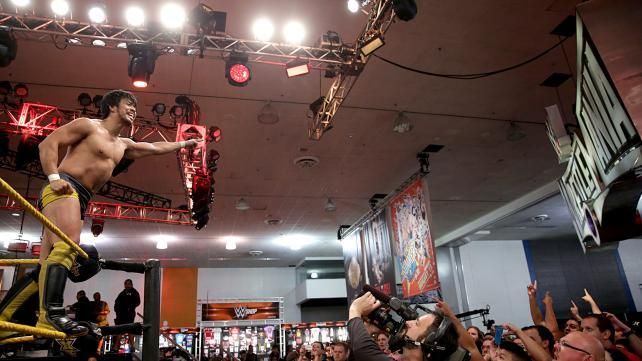 Hopefully the first of many sign pointings
Photo Credit: WWE.com
It's a beautiful Sunday afternoon in the Bay Area, and just out of sight of the
audience that just gave him a rapturous reception
, the man formerly known as KENTA is
on a knee, crying
,
touching the ground
as if he can't believe he's awake. Or here. Or alive.
Everybody's got an origin story embedded in them somewhere. For this episode of NXT, it was a quesarilla of what appeared to be a hybrid clip show slash WrestleMania weekend recap into telling more of the story behind the man Full Sail came to know as Hideo Itami. The leader of the new school who may need the most help with his cultural crossover got it from the production team, who outside of the Sami Zayn/Kevin Owens video package a few months ago have never put it together better than they did encapsulating his weekend towards Levi's Stadium after he won a qualifying tournament to get into the second annual Andre the Giant Memorial Battle Royale. But the wrestling's never been in doubt with him: he proved it in his semifinal victory over Adrian Neville and his win over Finn Bálor in the final to even them at one apiece and send him towards Play Button 31. (More about which later.)
The mini-documentary about the progenitor of the GTS took up the last fifteen minutes of the show and seemingly went by in a fifteenth of a second. It started where WWE picked up the narrative last July and ended with Triple H saying by Itami getting that kind of reaction in front of that size of a crowd despite getting punched out of the proceedings that he was a winner, and it didn't just feel like corporate varnish. In between? Like a calzone bursting at the seams; it was that filling, and felt that good inside. Moments big and small abound for the duration: Hogan saying KENTA's pop outdid his is a nice bit of putting over where it usually doesn't come from, sure.
But Daniel Bryan saying he's the hardest-kicking superstar on the roster having supplanted the crown from him and joking around with him after he regained his composure on WrestleMania Sunday? Seth Rollins and him
joking in the back
that it took the (at the time) soon-to-be WWE World Champion three years to get to WrestleMania but Itami got it done in about six months? Mark Henry dapping him up and saying he can own it here? That's nothing compared to his
ridiculously adorable
little boys
pestering Tyler Breeze while he's playing video games against the Boss per
Sasha's sneaky subtly
requesting they do so behind Prince Pretty's back.
And
that's
nothing compared to them practicing their
version of a family heirloom
on each other after Dad finally got to hit Unkie Tyler with it that Friday night or
congratulating up their dad
in the back after he punched out of his shift on Sunday. Firstly, Pretty Boss needs to be canon. We can all agree on that. Secondly, even the biggest Cheney of a human being would get their black, shriveled heart moved by the next generation of Itamis who will probably be kicking in people's chests in 2037 running around backstage and taking snaps while Papa plies his trade. Them and their mom being surrounded by ravenous fans who were waiting for that first GTS to connect and then uncorked a massive roar when it finally did without them being bothered was just another in a series of awesome, quietly emotional moments that connect Itami to the NXT viewer without him having to say a word.
Of course, this is still an NXT hour, and even with all the kowtowing towards media coverage and the mandatory Look At Us Having Fun In [Insert Town Here]! Other Towns, This Could Be You! spot you still got three above-average matches whose only crimes were they could've gone longer, which is kind of like dumping Anne Hathaway because she won't commit when she sings Wrecking Ball at this point. In the first semifinal, Itami beat
Adrian
Neville in a fine back-and-forth that was notable for somebody in the crowd getting under the skin of The Man That Gravity Forgot with an early comment, then Neville calling him out on it before dismissing the heckler with a "You're lucky" and getting back in the ring, working subtly heel as he had last fall against Sami Zayn in front of a predominantly pro-Itami bunch. Corey Graves furthered it on commentary by mentioning maybe he wouldn't have severed their Championship dyad if this iteration of Neville was the one he'd been working with and commended him for taking nearly the full measure of the ten-count outside of the ring to recover from some of his offense. Itami would manage to polish him off with the Sick Kick after dodging a Red Arrow attempt and hitting the basement hesitation dropkick.
In the other semifinal, it was Tyler Breeze going against Finn Bálor, with this being the one bout where the winner was in doubt going in. This was another quick, fully sound if unfully formed match (there's a 20-minute version of this that's two-hour Network special worthy in them if this amuse bouche was any indication) highlighted by Breeze's working the referee loud enough to be heard and the Sling Blade > shotgun dropkick hand on the pump > Coup de Grâce combo platter that Bálor's taken to polishing off his victims with.
That set up the final and the rematch of their MOTYC earlier this year in the semis of a #1 contendership tournament, starting off with a series of reversals and hammerlocks and counters to hammerlocks that seemed to span over a minute and never outstayed its welcome; in fact, the deeper into it they got (the fifth generation?) of countering and reversing the more you wanted to see them continue go down the well of chain wrestling and see if this pro graps equivalent of a Rube Goldberg machine could keep going on its own steam. They could've said these guys were former tag partners, both babyfaces, and pretty much a pick 'em in any sports book Vegas could've had NXT on offer in an alternate universe, but they showed it instead of telling not even 90 seconds into the bout. And that was before Bálor started busting out Regalesque finger work (you read that work) and uncorked the best dropkick this side of the Rainmaker. They traded dueling kicks, dropped each other, and reset. The Irishman thought he won a forearm tradeoff, but all that did was piss Itami off. Then The One Whose Style Is Kick thought he was going to be able to polish him off with his Sick Kick but all it got him was Sling Bladed. However, Itami managed to stop a Coup from happening and would connect sickly to get the win and the spot in the battle royale. The Code of Honor was adhered to, and it sent Itami to his weekend engagements.
On several occasions he mentioned the surreality of the whole thing, how it felt like he was dreaming while awake. It sounded crazy, but upon reflection it makes perfect sense: what else would it feel like when your dreams were actually coming true? In the immortal words of last decade's constant WWE contributor Bob Richie, if it's real, you'll feel it: for the better part of an hour it took the member of the leaders of the new school most relegated to the shadows a mighty bright spotlight to shine in, and made us all feel his sacrifices, slight agogness, and joy over being able to be more than just a man who's style is kick and is really a family man who sacrificed his wife and kids (sound like any Champions you know?) to get that feeling that could even drive the strong to a knee and a viewer to the box of tissues.
Not too damn shabby for a show with reheated material.