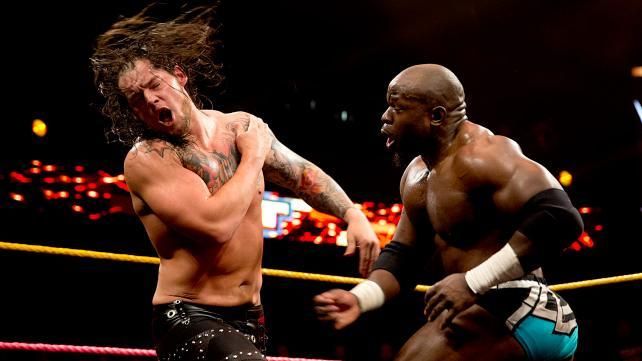 Pictured: the new #1 contender
Photo Credit: WWE.com
After a crazy two-plus hours last Wednesday night in Full Sail, Takeover: Respect had taken care to TCB, from Dana Brooke to Finn Bálor and all points, matches and wrestlers in between. This time the curtain call was metaphorical, but the florists' convention of hosannas thrown at it afterwards would've been literal if it could've been.
Once it was put in the books and people could parse the paragraphs, what stood out was that as a unit not only were there no swerves for the sake of swerves, there weren't swerves period. Samoa Joe and Finn were the most high-powered team in the Dusty Classic and while everybody was waiting for a sudden but inevitable Joe turn in order to shortcut the queue in order for a shot at the Big X, they just banged out four wins and won the damn thing. Both Dustin and Cody Rhodes showed up to congratulate them and pay honor to their dad, but didn't lay out the Wednesday nighters in doing so. Hell, for all we know the still intact trophy is next to Bálor's Lego collection right now. Bayley and Sasha Banks were going to put on a MOTY candidate (if not outright MOTY, but season to your own personal tastes there) that was going to come down to a one fall differential in either the closing seconds or overtime, but nobody would've assumed they would've gotten there by Bayley emulating Zack Sabre Jr. and trying to kick the Boss' frakking head in at the same time while she did so.
It seemed the post-Respect episode of NXT would be going down that same frillless path, and for most of the hour it did so. A new face stepped to Bayley with her own designs on the crown, the Vaudevillians pretty easily overcame far inferior opponents, Nia Jax won her debut with about the same minimum of fuss (more on all of this later). But towards the end of the number one contendership battle royal that was the entree to the rest of the show's appetizer, it started with a minor swervelet (Baron Corbin's shocking but inevitable "turn" on Rhyno after they'd been doing pretty well together), escalated with a slightly bigger one, and then concluded with a pretty sizeable one that saw the next shot at Full Sail's resident title-holding Daemon all lined up and firmly secured in the metaphorical back pocket of...
...Apollo Crews?
This isn't to say that the undefeated newcomer's undeserving of a shot, or that he didn't earn it since he had the most televised eliminations out of the field. But he didn't even get an aired introduction for it. Sure, earlier in the show he'd said he was going to win for the shot at The Champ, but his was just one of several Royal Rumble revisited style quick-hitter promos that aired during the show; Rhyno and Tye Dillinger had similar moments, as did more likely suspects like Prince Pretty and the Lone Wolf. The last two, alongside Crews and Joe were the final four in the contretemps.
As with most battle royales, the part leading to that was inoffensive if highly skippable filler. The lowest names on NXT's totem pole got fed to Crews early before a commercial break, Corbin's switch flip on his frenemy led us to the last one, and in short order we got to the conclusion: Joe eliminated Tyler Breeze much to the gall of the crowd, the latter got his revenge by tripping the former to the floor when he was on the apron, and then it was Crews v. Corbin. You could hear the air deflating out of the crowd, and almost all their chants were either directed at wanting Breeze in the first part of the ending sprint or at Corbin for sucking.
Crews got a few chants but it was as if a few dozen people were already resigned to their Corbin-gets-the-shot fates. And then a trifecta of enzugiris and a clothesline later, Crews had punched the winning ticket much to the pleased surprise of the Full Sailors. Assuming it actually comes to pass, Crews/Bálor should be a fine match that even a year wouldn't have been possible in the confines of an NXT ring. Then again, the phrase that pays there is "assuming it actually comes to pass". Then again to that then again, they could easily run that match with a clean ending and save any character advancing shenanigans for a post-match button. As wiser than us say, watch this space.
With us going off the air previously with Bayley standing strong and triumphant if teary-eyed in the center of the ring with her championship it was a nice closing of the circle to have her kick off the show and be allowed to luxuriate in a few supportive chants and her loyal fans from Izzy on down chanting her name all the way up to the rafters. Of course, kindness like hers abhors a vacuum, and out came Alexa Bliss and her goons (probably hired) to crash the party. For some reason the woman who continues to drag Mama Bliss' good name through the mud cut a faux hail-female-well-met promo that wouldn't even be bought with Enron stock and that Ray Charles could see through before temporarily stealing the belt and saying that next time it would be coming with her full-time, with Blake and Murphy providing a human firewall while she spit her invective. Against 2014's Bayley this sort of thing probably would've been successful, but while she's no Dana Brooke if she keeps screwing with the champion in her 2.0 iteration she could very well be about to be next to get her head kicked in.
The show's other matches, as mentioned, saw the Vaudies look every bit the champions they are, somehow oddly already leading to
Fulton/Dawkins dissension
and Nia Jax finally arriving and making short work of SHIMMER alumna and newcomer Evie. Jax's near squash that we'll call a showcase has slightly more to sift through, since she seemed to be in mannerisms, offense, and size a sort of inevitable historical revisiting of Kharma.
[Side note too big to be a parenthetical and yet small enough to be bracketed - how many actual high-quality women's wrestlers that suffered through the nadir of the main roster's division in the previous decade would you love to see mix it up with the ladies of the black and yellow clan even if only for a one-off? Kharma, sure, but Beth Phoenix and Gail Kim immediately come to mind as well, alongside a few others. Anyhow, enough Dorianesque day dreaming.]
While Jax seemed to be a heel -- the diminutive, plucky New Zealander she was up against couldn't have drawn heel heat if she'd lit a puppy on fire, at least for the purposes of this match - the crowd responded to her well, giving her a pop and a chant coming out while also using her name to fill in the "____________'s Gonna Kill You" blank chant. It wasn't so much her work as her future that provides the intrigue behind the eyes we've been teased with for weeks, even if that offense didn't look out of place talent-wise and spared all the flash. Plus, she is billed from San Diego, and as we all know, only awesome things come out of and reside in San Diego.
Sure, Apollo Crews isn't from here, but his enzugiri's just as nice as one of our sunsets. And if he gets his match against Finn for the belt and it goes off without any sort of outside party throwing a spammer in the works, it has the potential to be just as beautiful as one, too.